14 Best Places to Visit in England
Despite being a small island, Britain has managed to shape the world. From the language that we speak to the books that we read, the United Kingdom has been a cultural powerhouse throughout history. There is no better place to explore this cultural heritage than England. From the megacity of London to the rolling emerald hills of the Lake District, the country is full of wonderful places to visit and there are so many nice places to see in England, it is sometimes a bit of a challenge to know where to start!
Photo by David Monaghan on Unsplash
So to help you plan your trip, here is our list of the best places to visit in England to help get you started.
List of Top 14 Places in England
1.) Lake District National Park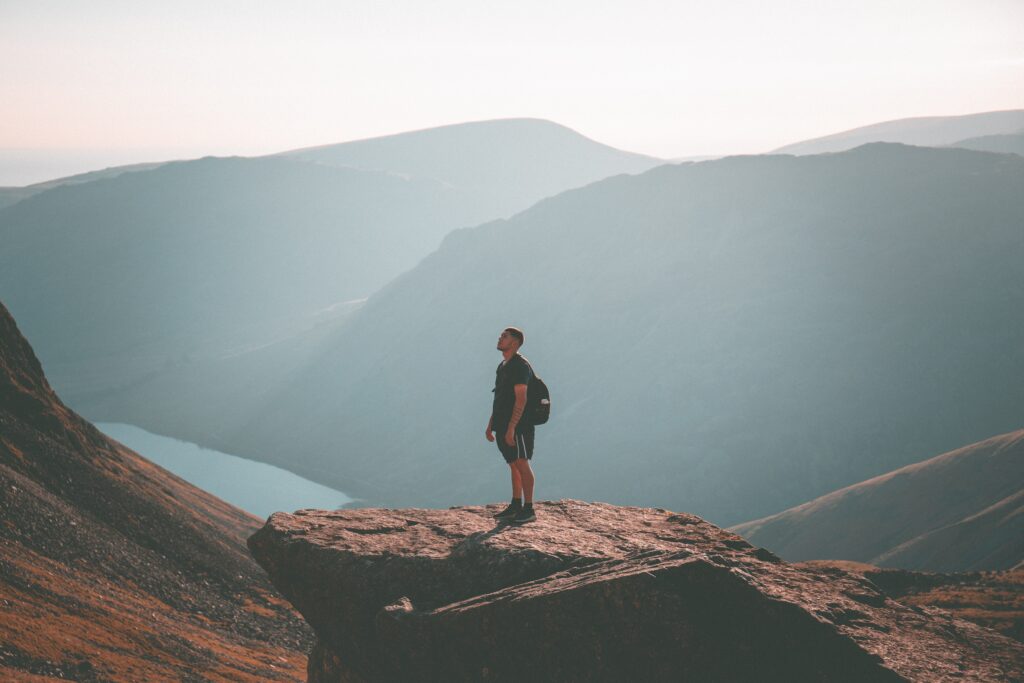 Popular Activities in the Lake District
Hiking
Cycling
Villages
Best Time to Visit the Lake District
Spring, summer, or fall. During summer, you are more likely to get good weather but the area is extremely popular so you may encounter a lot more crowds and higher prices
More About the Lake District
The Lake District is one of the best places to visit in England and it is not difficult to see why. The rolling hills, stunning lakes, and inviting villages are the perfect place to spend a few days (or a few weeks!). William Wordworth and Beatrix Potter found inspiration here and countless Londoners have rushed here to escape the hustle and bustle of London.
The Lake District is world-renowned for being a place of extreme natural beauty and one of the best things about the Lake District is that it provides a great vacation place for both active travelers and those looking for a more relaxed holiday.
The Lake District villages are overflowing with charming inns, historic pubs, and fascinating museums where you can learn more about the area, cozy up with a pint, and fall asleep after a long day. Meanwhile, the surrounding hills are covered with hiking trails. The trails are well-maintained and the only essential equipment are good hiking boots and a waterproof jacket (which is pretty essential for a vacation in England anyways). This makes it easy to tack on a hiking portion of your UK or Europe trip without having to lug around a lot of extra stuff or waste time renting it.
The Coast to Coast bike route also passes through the Lake District making it an ideal place for cyclists. If you don't have your own bike, don't worry – there are plenty of places where you can rent them at reasonable prices.
2.) Corfe Castle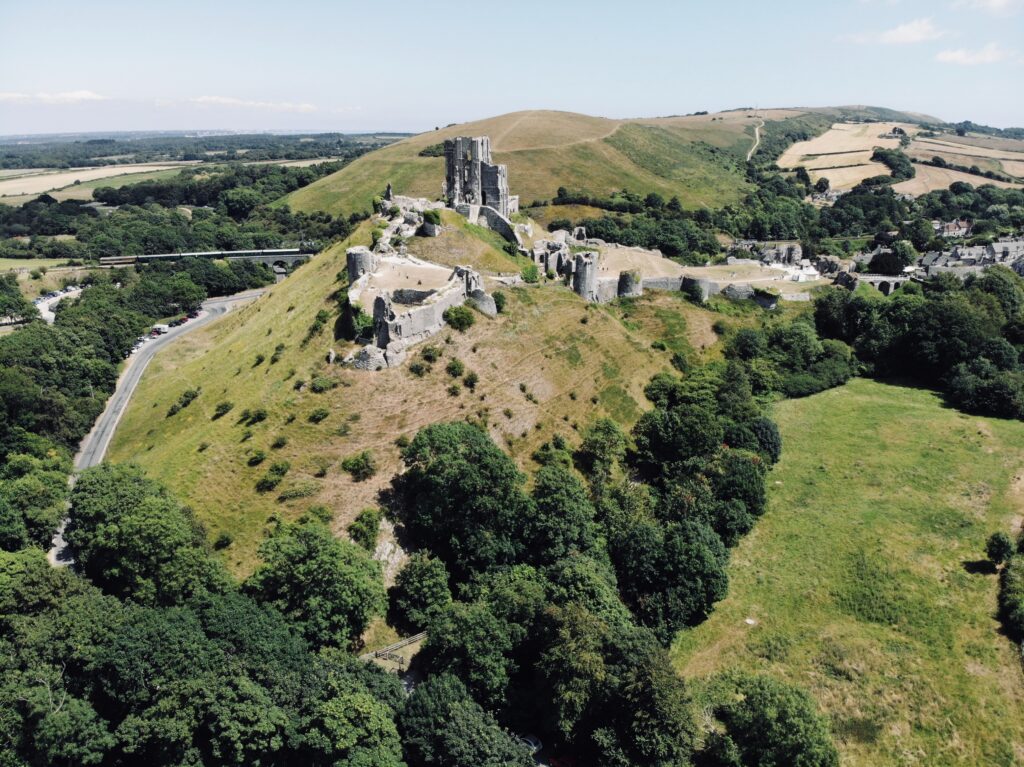 Photo by Benjamin Elliott on Unsplash
Popular Activities in Corfe Castle
Shop in the local stores
Visit the Corfe Castle
Experience the original Corfe Castle at the Model Village
Best Time to Visit Corfe Castle
Summer or fall
More About Corfe Castle
This adorable little village is named after the ruined castle that still stands proudly above it. The village offers visitors a wide variety of mom and pop shops, restaurants, and pubs as well as a range of accommodation options. It is a great place to spend a day or two exploring the quiet streets, the local businesses, and, of course, the legendary Corfe Castle.
The first stone of Corfe Castle was laid 1000 years ago and until its destruction in the 1600s, it served as a treasury, military fort, and royal residence. Today, you can visit the ruins of the castle and it is a fascinating place to visit. History buffs will especially love the Model Village which allows you to step back in time to see what Corfe Castle was like in 1645.
Corfe Castle is just a few hours away from London, Bristol, and Bath and is accessible via train, bus, and ferry making it an ideal place to stop on your trip around England.
3.) Cambridge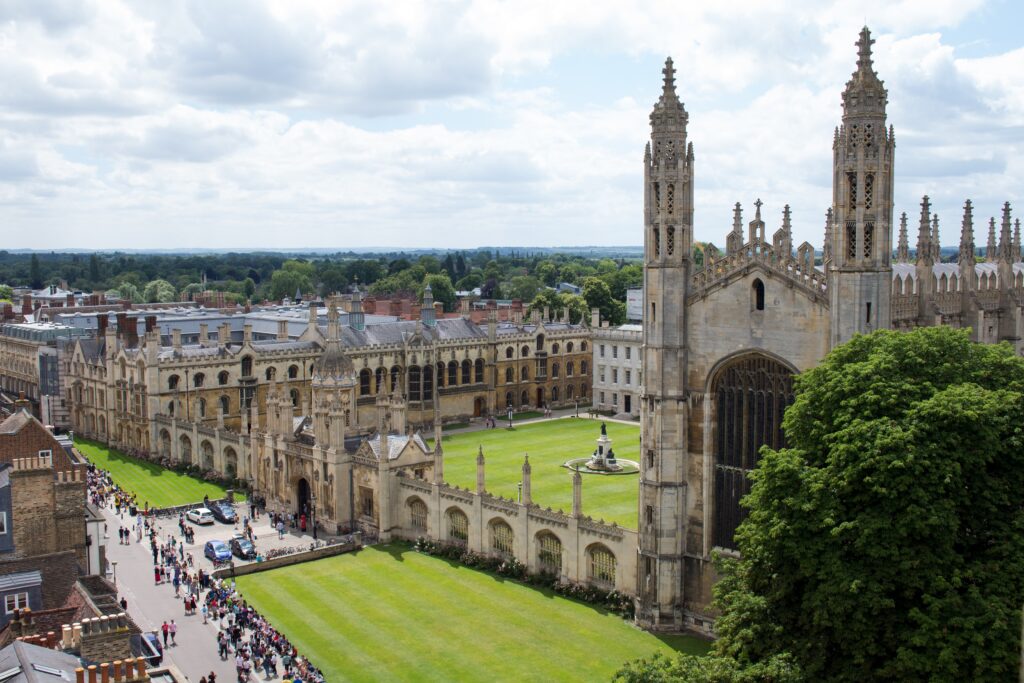 Photo by Kirsten Drew on Unsplash
Popular Activities in Cambridge
Visit King's College Chapel
Immerse yourself in art and history at the museums
Punting on the river
Best Time to Visit Cambridge
Spring, summer, or fall
More About Cambridge
Although it is just a small city, Cambridge is known around the world thanks to being the home of one of England's most prestigious universities. The University of Cambridge was founded in 1209 and is made up of 31 distinct colleges all with their own campuses, histories, and character and you can explore breathtaking libraries, stunning courtyards, and fascinating bridges. Visitors can visit many of the university buildings including King's College Chapel, the Fitzwilliam Museum, and Kettle's Yard, one of the country's best art museums. As a city founded on academia, it is no surprise that the city boasts a whopping eight museums. Besides the two mentioned above, there are museums covering history, art, science, and even polar exploration!
Cambridge is also a very green city with a lot of different parks where you can have a picnic, relax on the grass with a good book, or admire the flowers. You can also go punting along the river which makes you almost feel like you are in your very own British movie!
Cambridge is just 55 miles from London and a very easy train ride. Tickets can get pretty expensive during rush hour though so try to travel during off-peak hours or book your tickets well in advance.
4.) Bristol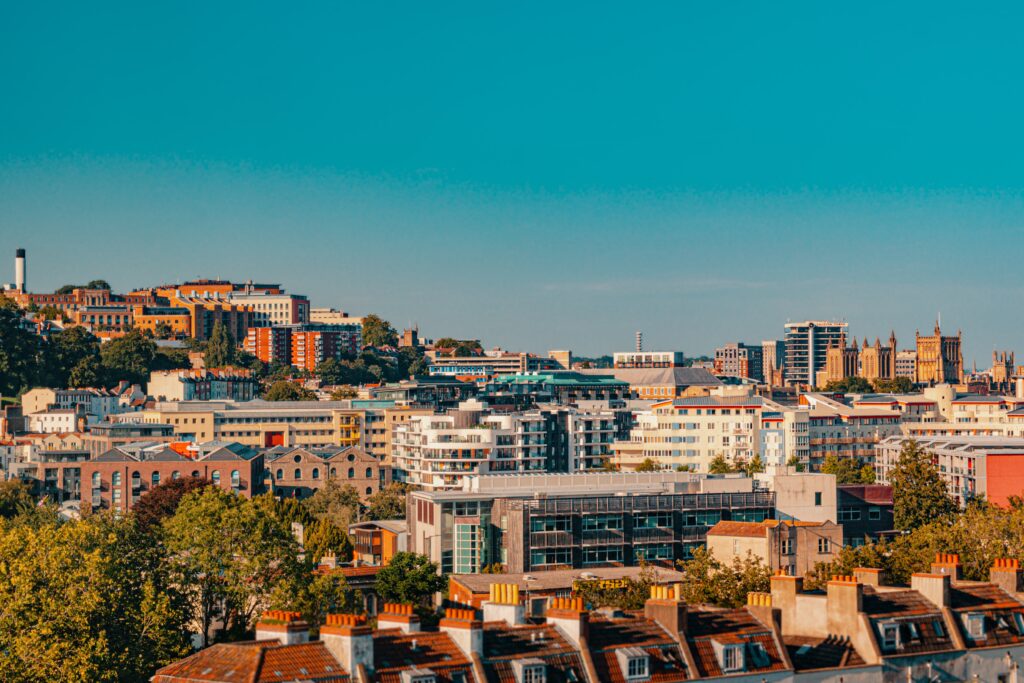 Photo by Martyna Bober on Unsplash
Popular Activities in Bristol
Go for a night out on the town
Visit the harbour
Take a day trip to Bath
Best Time to Visit Bristol
Any time of the year
More About Bristol
Bristol is a medium-sized city in southwest England with a big personality. The quintessential college town, Bristol offers visitors a ton of different attractions and a vibrant cultural scene to match its youthful population. While you are there, you can check out the beautiful harbour area, browse at some of the interesting independent shops and boutiques, or learn something new at one of Bristol's excellent museums.
Bristol is also one of THE best places to go for a night out on the town. Drink prices are considerably lower than in London and with a large student population, there is sure to be a lively crowd.
Bristol has plenty of attractions to warrant a visit but it is also a great place to base yourself for exploring other parts of England and Wales. Bath, which is considered one of the most picturesque places in England, is just 15 minutes away. If you would like to experience the English seaside, Weston Super Mare is a mere 30 minutes by train.
5.) Oxford
Photo by Ben Seymour on Unsplash
Popular Activities in Oxford
Explore Christ Church College
Visit Oxford Castle
Learn more about Winston Churchill at Blenheim Palace
Best Time to Visit Oxford
Spring, summer, or fall
More About Oxford
Much like Cambridge, Oxford is full of museums and stunning architecture. Both are world-renowned for their academic institutions, which visitors can explore, and their beautiful landscape. However, Oxford does one thing that Cambridge doesn't – Harry Potter. Several of the scenes from the iconic movies were filmed at Oxford's Christ Church College. If that alone doesn't make you want to go check it out, the college was founded in 1525 and is the home of some truly remarkable Gothic buildings.
While in Oxford, you can also check out Oxford Castle. Construction began on the castle in 1000 CE and while you are there, you can visit a 900 years old crypt, and climb the castle's tower to get sweeping views of the surrounding city and countryside while you listen to stories about the castle's long history.
It couldn't be easier to get to Oxford from London and the train ride is just under an hour. From Oxford, it is also just a 20-minute car ride to Blenheim Palace, a UNESCO World Heritage Site that just happens to be the former home of Winston Churchill. You can learn more about Britain's most famous leader at the fascinating Churchill exhibit.
6.) Norwich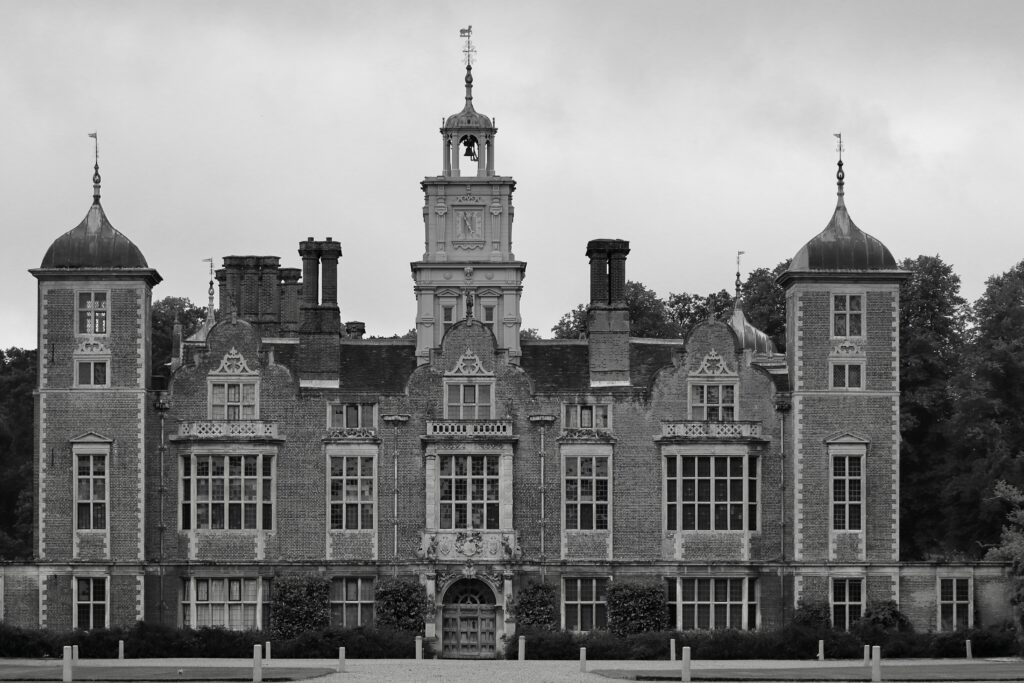 Popular Activities in Norwich
VIsit Norwich Cathedral
Stroll through the Victorian arcades
Explore Elm Hill
Best Time to Visit Norwich
Any time of the year
More About Norwich
Not many cities can claim that they are over a millennium old and Norwich is one of them. This historical gem lies about two hours away from London and is home to the 1000-year-old Norwich Cathedral, Victorian arcades full of charming shops and cafes, Norwich Castle and a quaint quayside full of low slung brick buildings. The city is very compact which makes it easy to explore on foot and allows you to travel at your own pace. This makes it one of the best places in the UK to visit for people who love historic towns.
The epicenter of traditional Tudor architecture is in Elm Hill where cobblestones line the streets and centuries old buildings lean precariously over the narrow alleyways. The neighborhood oozes charm and you may even start to imagine yourself as a modern day William Shakespeare searching for your next inspiration. You may not be the only one! Norwich is home to two major colleges and both feature renowned writing and art programs.
In the summer, the streets come alive for the weekly Head Out, Not Home event. Head Out, Not Home features live entertainment by local and national performers and is a wonderful way to spend a few hours in this wonderful little city.
7.) Stonehenge
Photo by Sung Shin on Unsplash
Popular Activities in Stonehenge
See the famous stone
Best Time to Visit Stonehenge
Spring, or fall
More About Stonehenge
When people think about England, Stonehenge often pops into their minds. The image of the upright stones placed in a circle is used on everything from screensavers to scarves and it has made more appearances in movies and TV shows than some of the world's most established actors.
For centuries, these stones have been confounding archaeologists and anthropologists and enthralling tourists. As of today, it is traditionally believed amongst scholars that the construction of Stonehenge started around 5,000 years ago by Neolithic Britons and that the entire structure was added to and modified over the next thousand-ish years. The final modifications were completed around 1,600 BC making it really, really, really old.
Stonehenge is about an hour and a half from London by car and or around two hours by train with a quick transfer in Salisbury (which is also well worth a visit!). Stonehenge can also easily be reached on a guided tour from London. If you decide to head out there on your own, try to get there as early as possible. This will allow you to skip the hordes of tourists. There is a limit to how many visitors are allowed in due to COVID-19 restrictions so make sure to book your tickets in advance to avoid any disappointment.
8.) Jurassic Coast World Heritage Site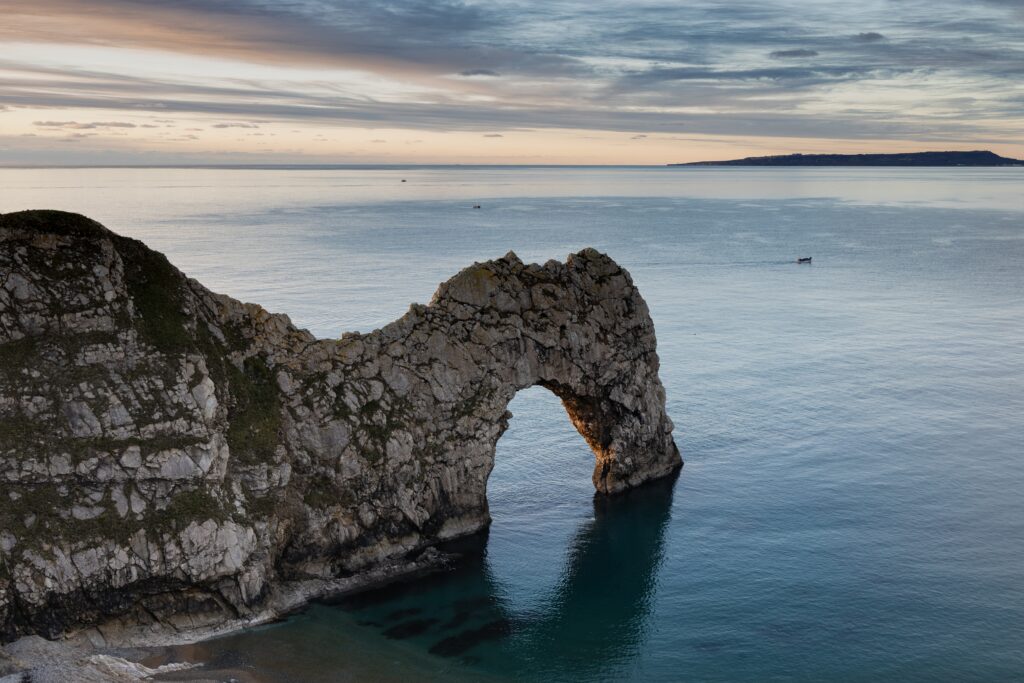 Popular Activities on the Jurassic Coast
Search for fossils
Visit a historic seaside town
Explore the natural landmarks
Best Time to Visit the Jurassic Coast
Summer, or fall
More About Jurassic Coast
The Jurassic Coast is England's only natural World Heritage Site and consists of a remarkable array of rocks, fossils, and land formations spanning 185 million years including the Triassic, Jurassic and Cretaceous periods. It stretches for 95 miles from Exmouth to Old Harry Rocks.
The area is particularly good for fossil hunting because as the ocean erodes the cliffs, new fossils are always being exposed. If you keep your eyes peeled while walking down the beach, you may even be able to spot these remnants of creatures that lived millions of years ago.
As you drive along the coast, there are some great things to see. You can stop by historic seaside towns like Budleigh Salterton, SIdmouth, Lyme Regis, and Charmouth. Or visit some of the iconic natural landmarks like the Durdle Door, a natural arch, or Old Harry Rocks.
The Jurassic Coast isn't a place you can only visit on a day trip. There are a number of charming little villages located along the coast where you can stay offering everything from quaint bed and breakfasts to hostels to campgrounds. There is something for every budget.
9.) Watergate Bay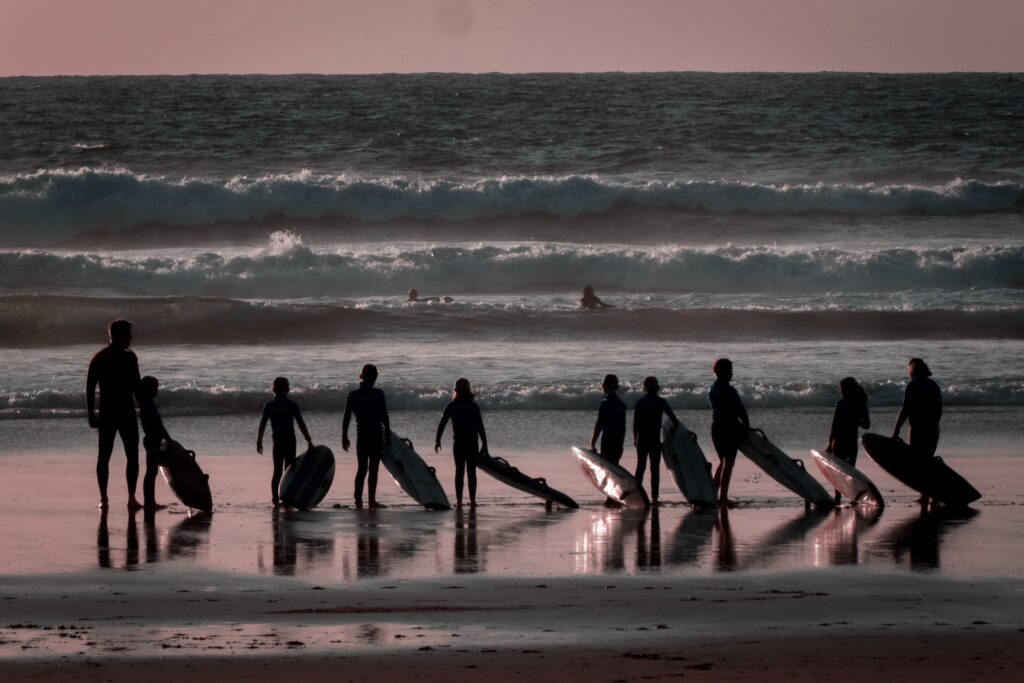 Photo by Nick Fewings on Unsplash
Popular Activities in Watergate Bay
Try out your surfing skills
Visit the beautiful beach
Stay at the Watergate Bay Hotel
Best Time to Visit Watergate Bay
Summer
More About Watergate Bay
Watergate Bay is hand-down one of the best places to visit in the UK for beach lovers and surfers. While it may not be the white sand beaches of the Caribbean, the dark cliffs and the crashing waves make this the kind of beach where you can imagine sitting for hours staring at the waves and then warming up with a nice cup of tea or a delicious pint.
Watergate Bay is located about three miles from Newquay on the North Cornwall coast. The golden sand beach stretches an impressive two miles. Watergate Bay is one of the best spots in the UK for water sports like surfing, kitesurfing, and you can even take surfing lessons if you want to try and improve your skills! If the water is a bit too cold to take the plunge, don't worry. There are plenty of things to do on the beach to keep you occupied!
The Watergate Bay Hotel is the closest accommodation to the beach and is an absolutely stunning place. You can also stay in Newquay if you want to have a few more options in regards to accommodation and dining which means that it can be a bit more budget friendly.
10.) St Michael's Mount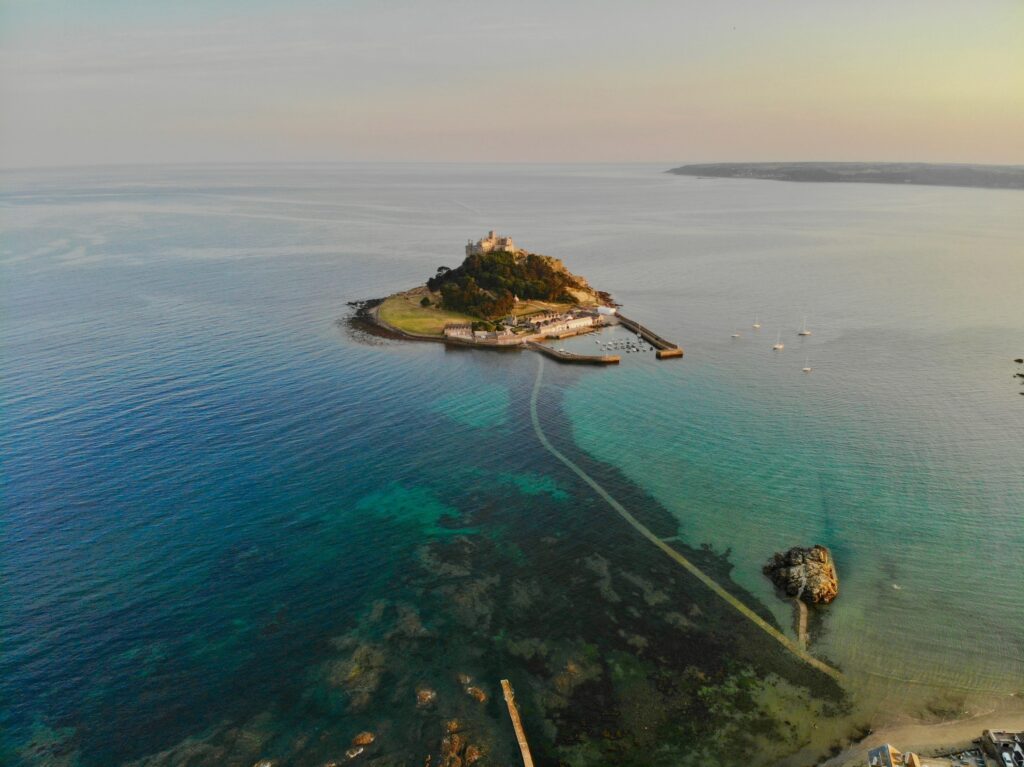 Photo by Benjamin Elliott on Unsplash
Popular Activities in St. Michael's Mount
Walk up to the castle
Have a coffee in a cafe
Explore the narrow streets
Best Time to Visit St. Michael's Mount
Summer
More About Michael's Mount
St. Michael's Mount is without a doubt one of the best places to visit in England. St Michael's is a small island featuring a medieval church and castle as well as a tiny village. There is also a lovely garden to explore. Getting to St Michael's Mount is half the fun and the island can be accessed by an ancient, cobbled causeway during low-tide or by boat from Marazion.
While the walk up to the castle is a bit steep, the sweeping views at the top make it well worth the effort. When you get back down, there are some great coffee shops in the village just waiting to help you get refreshed for the rest of the day.
St Michael's Mount is located off of the far southwestern coast of England and is about 45 minutes away from Newquay and Watergate Bay. This is a wonderful stretch of Cornwall and the perfect place for an English road trip.
11.) Castle Howard
Pwojdacz (talk).Pwojdacz at en.wikipedia, Public domain, via Wikimedia Commons
Popular Activities in Castle Howard
Tour the interior of the castle
Explore the gardens
Pick up a bottle of Castle Howard's gin
Best Time to Visit Castle Howard
Spring, summer, or fall
More About Castle Howard
Castle Howard is a magnificent historic house located near York and is one of the best places to visit in the UK. The property is one of the few privately owned castles in England (most of the others are managed by the National Trust). The approach to the castle is stunning with a beautiful emerald green lawn filled with smaller gardens and fountains. The castle's many rooms are filled with "modern" furnishings which makes it easy to imagine what life was like for the people of Downton Abbey.
Castle Howard is enormous and to explore it fully, you will need at least half a day. Luckily, there are a few onsite cafes to help keep you going and if you want to grab a souvenir to remember the day by, you can pick up a bottle of Castle Howard's very own gin.
Castle Howard is less than two hours from Manchester and is about four hours from London by car so it is ideal to include in a longer English road trip or even stop by on your way up to Scotland! If you want to stay the night and explore more of the surrounding areas, there are historic holiday cottages, a lakeside holiday park, and campgrounds.
12.) London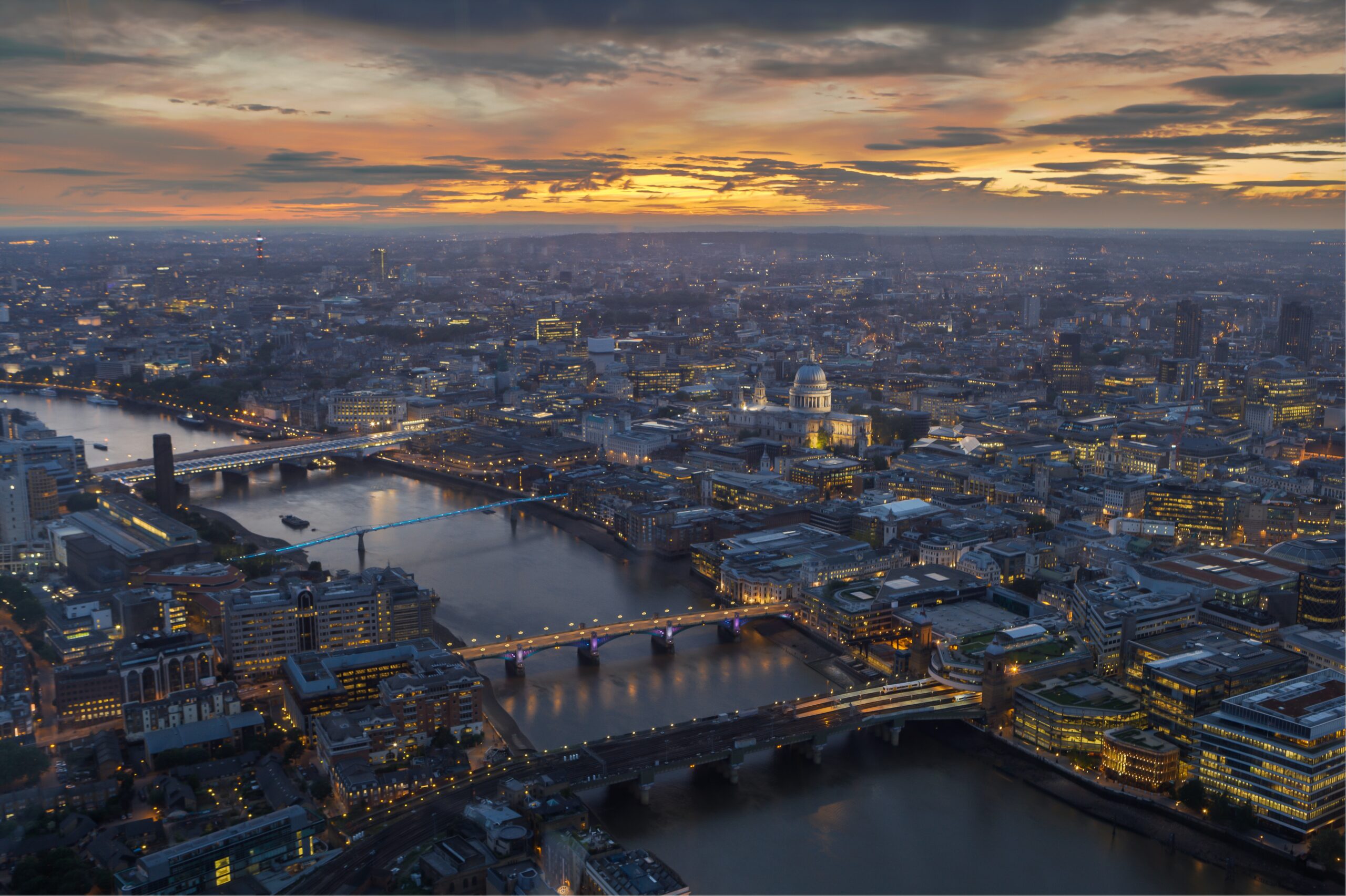 Photo by Jaanus Jagomägi on Unsplash
Popular Activities in London
Visit the city's many landmarks
Take a walk through the beautiful manicured parks
Immerse yourself in history at some of the world's top museums
Best Time to Visit London
Any time of the year
More About London
It is impossible to have a list of the best places to visit in England without including London. As the capital of the United Kingdom, London started off as a riverside settlement and has managed to survive invasions, plagues, fires, and the infamous Blitz of World War II to grow into the mega-city you know today. The city is packed full of interesting neighborhoods, enthralling museums, historical landmarks, and amazing nightlife. It is one of the few places where you can start the morning climbing through centuries old palaces and finish it with a world-class West End performance.
Some of the top places to visit in London include Big Ben, Houses of Parliament, Buckingham Palace, Trafalgar Square, the British Museum, the Tate Modern, and the London Eye.
Every visitor to England should include at least a few days in London exploring the cultural attractions. If you are on a budget, don't worry. A trip to London doesn't have to break the bank. Many of London's museums are free to enter and there is a wide variety of accommodation options to suit most budgets. You can also spend hours exploring the city's diverse neighborhoods, markets, and parks.
13.) Cirencester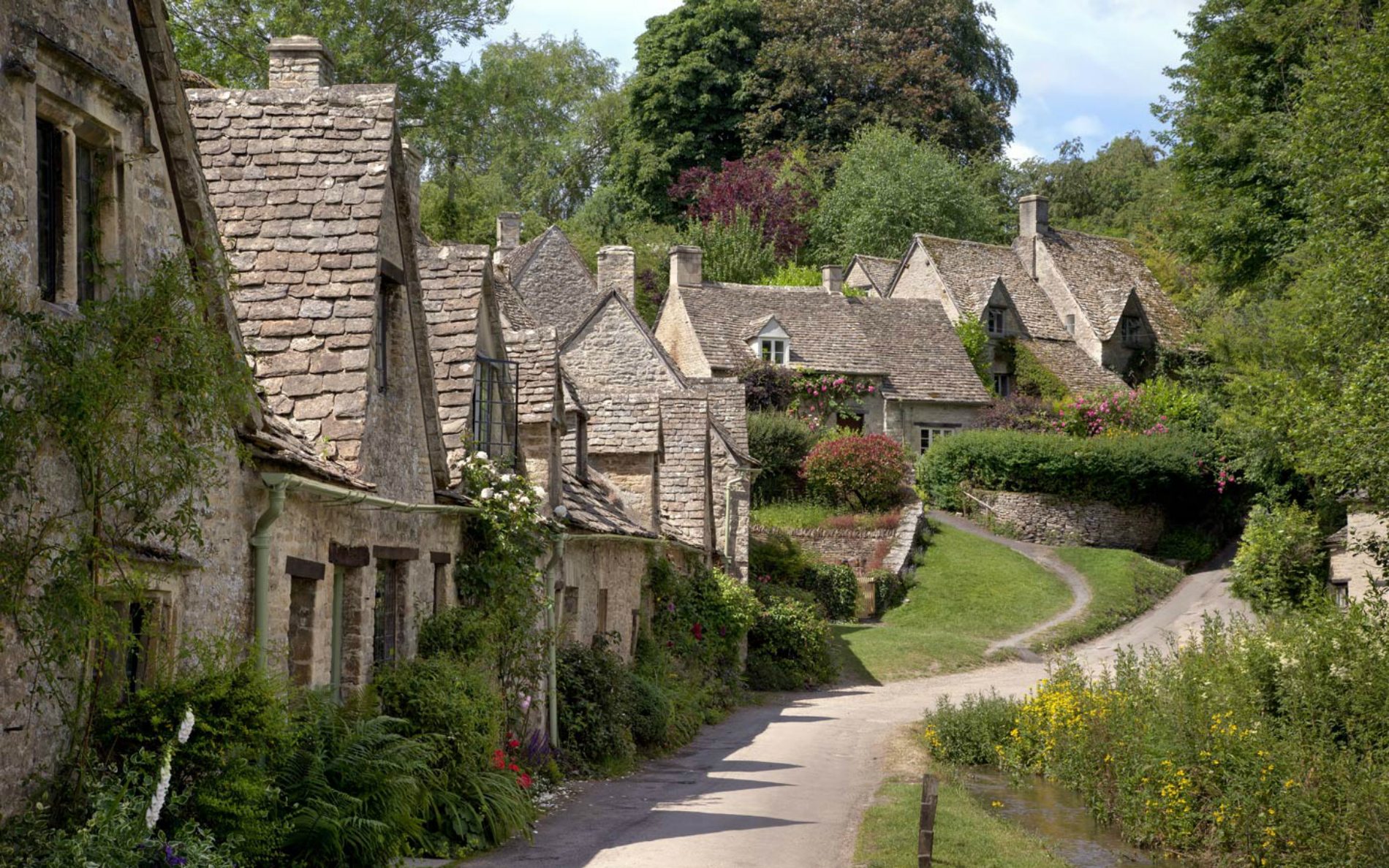 Photo by AndyRoland on iStock
Popular Activities in Cirencester
Visit the Roman amphitheater
Shop in the local boutiques
Learn more about the area at the Corinium Museum
Best Time to Visit Cirencester
Spring, summer, or fall
More About Cirencester
Cirencester is considered the capital of the Cotswold and this fascinating city is a great introduction to the region. Here, you can see one of the biggest Roman amphitheaters in Britain dating all the way back to the 2nd century, stroll along the famous Black Jack Street which is teeming with local stores and boutiques, or simply grab a book and head over to the gorgeous Cirencester Park for a relaxing afternoon. History buffs will love the Corinium Museum which explores the town's Roman past and is a great place to stop either both or after visiting the Roman amphitheater.
Cirencester also makes a great base to explore the Cotswolds. The area is considered the UK's largest Area of Outstanding Natural Beauty and you can spend days wandering through the rolling meadows, and historic villages there. Cirencester is about two and a half hours away from London and although it is possible to take public transport, an even better option would be to drive. There are some really great towns nearby and awe-inspiring scenery along the way and having your own vehicle lets you explore the area at your own pace.
14.) Brighton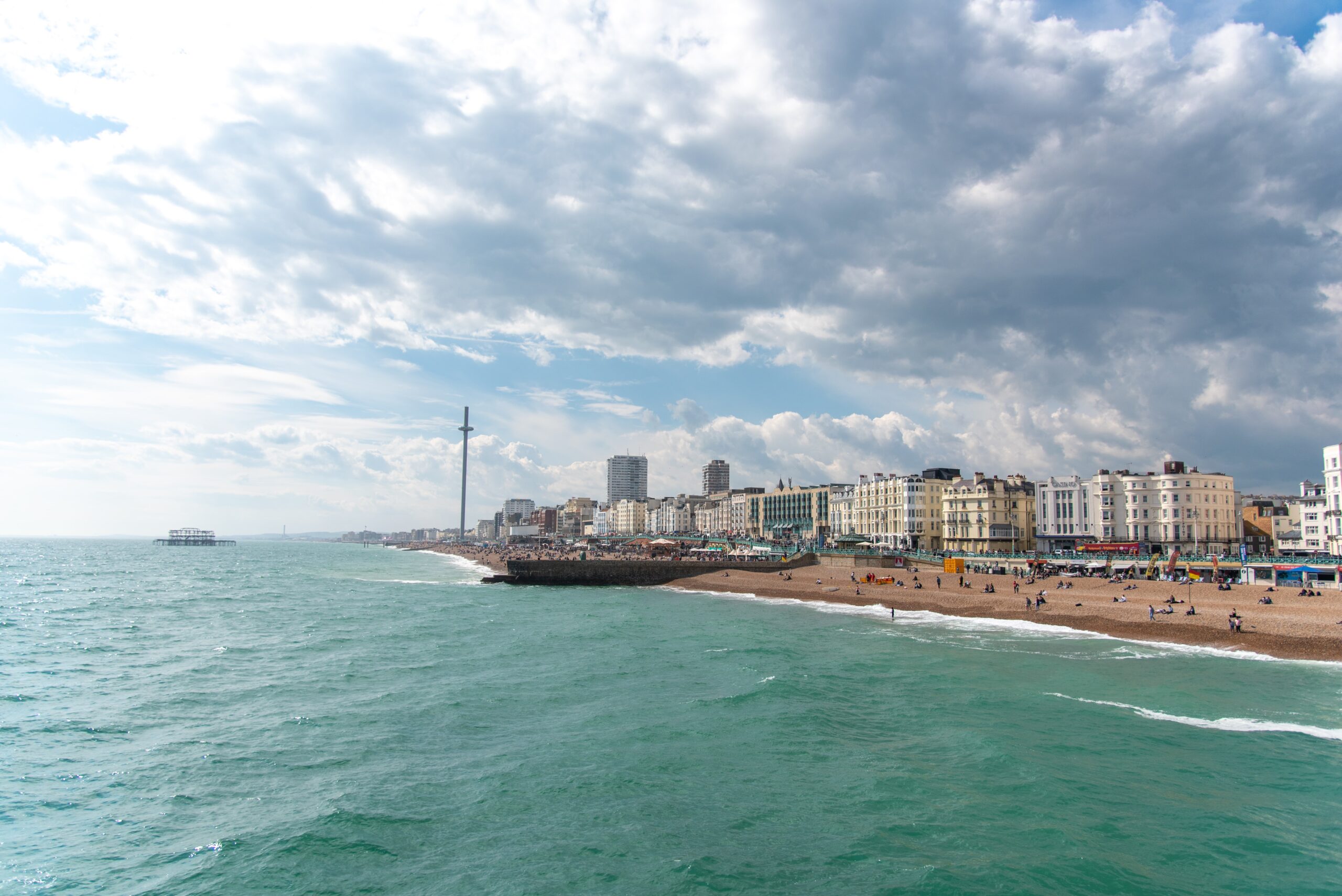 Photo by Markus Leo on Unsplash
Popular Activities in Brighton
Walk along the seafront
Go for a night out in the pubs and clubs
Visit the Royal Pavilion
Best Time to Visit Brighton
Summer
More About Brighton
Brighton Beach is the closest that you will get in England to a "California" beach town and while the area may be a bit kitschy, that is all part of its charm. From the fairground rides of Brighton Pier to the Taj Mahal-ish Royal Pavilion, everything about Brighton is a tiny bit over the top which is what makes going there such a fun experience!
While you are in Brighton, you can walk along the seafront, go for a swim at the pebble beach, or visit some of the lively pubs and clubs there. You can even head up into the sky on the BA i360. This observation tower gives you a chance to see sweeping views of Brighton and the English Channel far below.
Brighton is just an hour and a half train ride from London and is on the same line as Gatwick Airport. This makes it easily accessible if you are looking to include a quick beach holiday in your trip to the UK.
As you can see, England has a wide variety of places to see and there truly is something for everyone. Whether they are pounding the pavements of London or wandering through the halls of some of the world's best universities, culture vultures will be in heaven whereas outdoor enthusiasts may find it hard to pull themselves away from the gorgeous hiking and cycling trails.
There is a good public transport system making it easy to get around and it is just a short flight from the eastern United States.