10 Best Beaches In The USA To Visit: Beautiful Beaches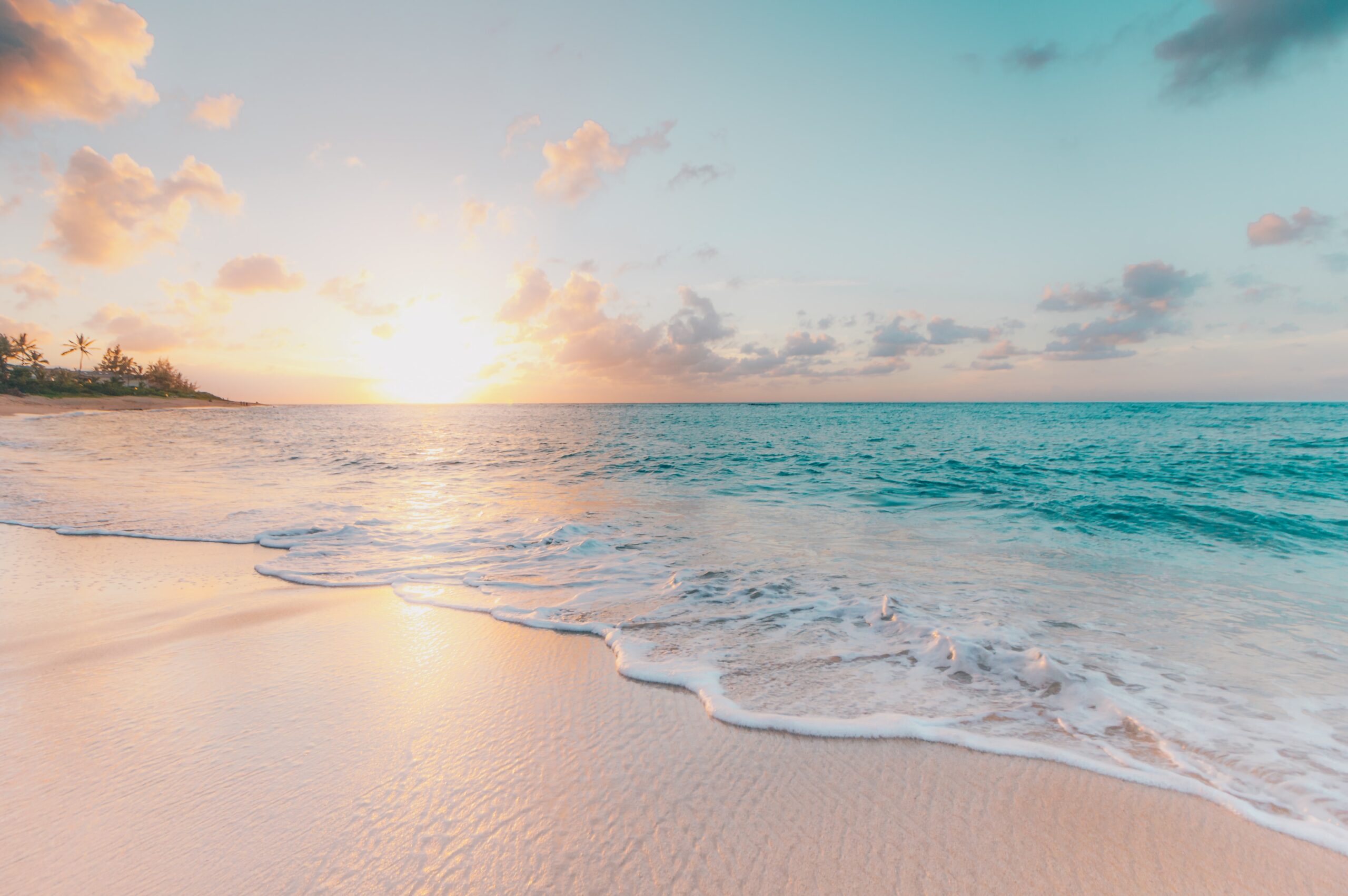 Photo by Sean Oulashin on Unsplash
The United States is blessed with thousands of miles of coastline. From the cool waters of the Pacific Ocean to the mammoth-sized Great Lakes, the coastlines are covered in beautiful beaches and visitors are spoiled for choice. Depending on where you live or are traveling from, you generally aren't too long of a drive or flight from a gorgeous beach.
Whether you are looking for a beach resort with all the bells and whistles or a quiet spot where you can pitch a tent, there is a US beach just waiting for you! Since we all know that a trip to the beach is good for the body and soul, isn't it time that you got a dose of Vitamin Sea?
Below we have put together our list of the 10 best beaches in the United States. These range from laid-back beach towns where you can sip a cocktail on the beach to undeveloped stretches of land where you can truly get back to nature.
List of Top 10 Beaches in the United States
1.) Clearwater Beach, Florida
Photo by Cody Board on Unsplash
Popular Activities in Clearwater Beach
Kayak
Try out the local restaurants
Visit the pier in the evening
Best Time to Visit Clearwater Beach
Any time of the year; however, school holidays can get very, very crowded.
More About Clearwater Beach
Located on the west coast of Florida, Clearwater Beach is just a short 90-minute drive from Orlando and Disney World and is one of the best white sand beaches in the USA. The two-mile-long beach is meticulously maintained and the Gulf of Mexico waters are generally calm enough for swimming year-round. You can also rent kayaks, and stand-up paddleboards or you can speed it up a notch by going jet skiing or parasailing.
Along the beach, there is a boardwalk lined with restaurants, shops, and vendors where you can grab lunch or some last-minute beach essentials. There is also a long pier which is a popular hangout day and night. The pier really comes alive in the evening though and Clearwater Beach witnesses some truly spectacular sunsets. Afterward, you can enjoy the music, crafts, and street performers who transform the pier into a mini-carnival.
Accommodation in Clearwater ranges from low-slung roadside motels to high-end international hotels so there is a price point to meet every budget.
If you are looking to head somewhere a little more remote for a day trip, make sure to check out Caladesi Island. This state park is accessible only by ferry and features pristine beaches and fascinating mangroves that you can kayak through. It is a great place for hiking, swimming, or simply lounging around on the beach.
2.) Venice and Caspersen Beaches, Venice, Florida
Photo by Christian Lucas on Unsplash
Popular Activities in Venice Beach
Search for shark teeth
Take a wander through charming towns
Take a swim
Best Time to Visit Venice Beach
Any time of the year
More About Venice Beach
Venice Beach is a gorgeous white sand beach in southwest Florida. The beach is famous not only for its clear blue water but it is also known as "The Shark Tooth Capital of the World" due to the large number of fossilized sharks' teeth that wash up on its shores. Venice Town is an adorable place with historical buildings and locally-owned shops which are great fun to stroll around. If you are looking for a beach vacation that combines small-town charm with a beautiful beach, this one is for you!
Caspersen Beach is another great beach and is the perfect spot for people looking for something a bit more secluded than Venice Beach. There are no residential areas nearby and the area is mostly untouched. When you are there, you can imagine what Florida looked like hundreds of years ago. Like Venice Beach, it is a great place to find fossilized sharks' teeth and offers the same calm, shallow waters that make swimming so enjoyable.
3.) Hanauma Bay, Honolulu, Hawaii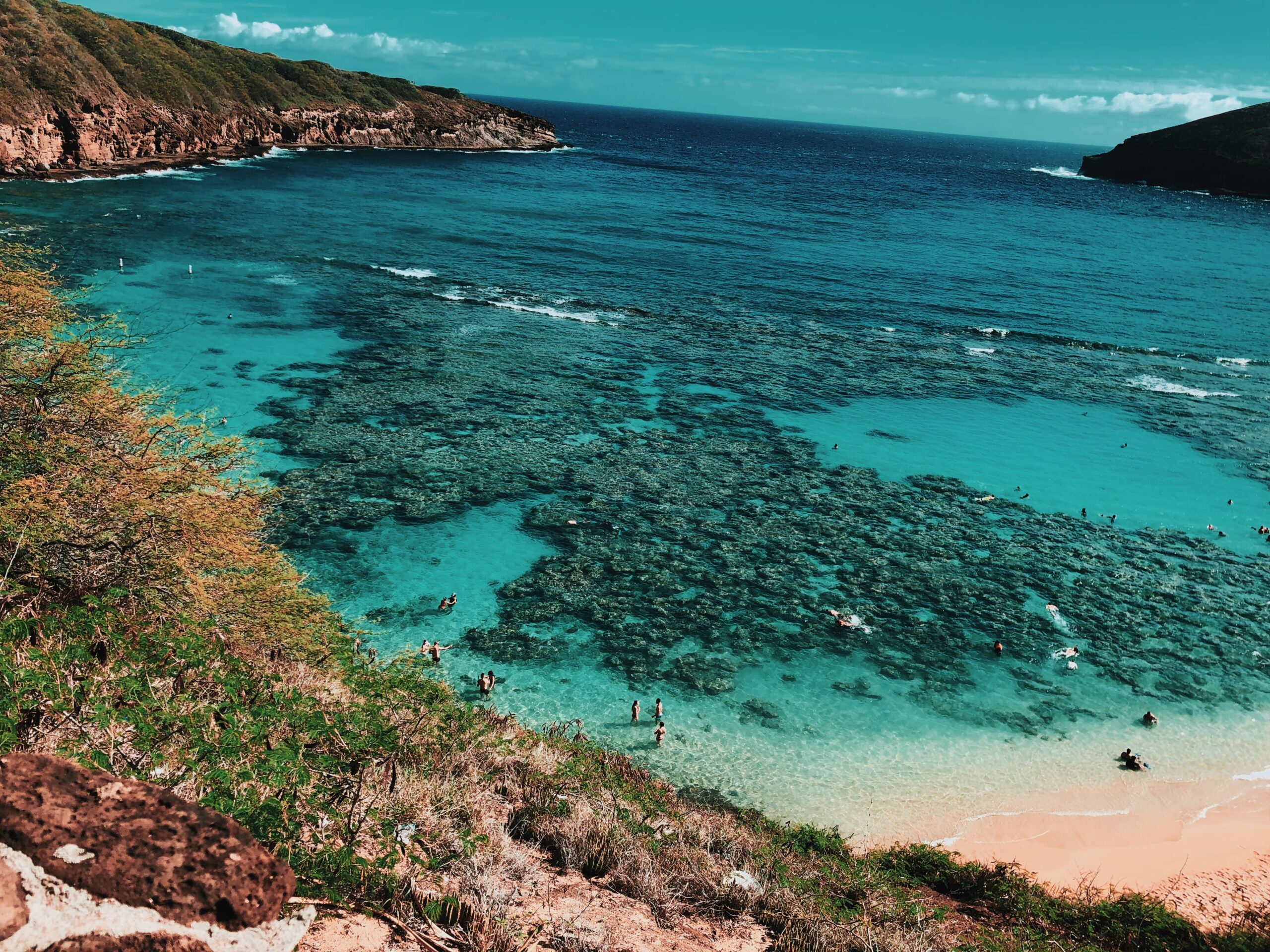 Photo by Brian Bondoc on Unsplash
Popular Activities in Hanauma Bay
Snorkel
Swim
Sunbath
Best Time to Visit Hanauma Bay
Any time of the year; however, school holidays can get very, very crowded.
More About Hanauma Bay
Hanauma Bay is part of Hanauma Bay State Park and is one of the most popular beaches in Oahu due to its proximity to Honolulu. The bay was formed within a volcanic cone and has white sand beaches surrounded by rolling green hills. Since 1967, it has been a protected marine life conservation area and there are currently over 400 different types of tropical fish and other marine animals that call the bay home, including sea turtles. Visitors can rent a snorkel and head out into the water if they want to get an up-close and personal glimpse of the underwater world.
The reef in Hanauma Bay was damaged due to over-tourism in the 1990s and there have been steps put into place to protect the environment from the same type of degradation. Every visitor must watch a 9-minute video on what they should and shouldn't do while visiting the bay and the impact that human behavior has had on the ecosystem.
Capacity is limited to 720 people per day and this fills up fast. However, you can reserve your spot online on the Hanauma Bay website. Facilities within the bay are limited but there are a number of shops on the way to the reserve itself that you can stop at to buy or rent snorkel gear or any last-minute necessities.
4.) La Jolla Cove, California
Photo by Alan Laiter Garza on Unsplash
Popular Activities in La Jolla
Watch the seals at Seal Beach
Visit the local shops and boutiques
Swim
Best Time to Visit La Jolla
Any time of the year. The Pacific Ocean is not very warm here so if you want to spend a lot of time in the water, you may want to avoid the winter months.
More About La Jolla
While La Jolla Cove may not be a sparkling, white sand beach, it may be one of California's most picturesque spots. The cove is a protected marine reserve that is popular with swimmers and snorkelers. However, it is important to know that you may have to share the water with a few friends – the resident sea lions! La Jolla Cove is also called Seal Beach thanks to the plethora of sea lions that bask on the cove's beach, and rocks. The water of the Pacific Ocean can be pretty chilly even in the summer so it is a good idea to wear a wetsuit or at least take a few big, deep breaths before heading into the water.
La Jolla is a charming little town full of high-end boutiques, souvenir shops, and restaurants. Although the area is pretty expensive to stay in, you may be able to find a few lower-cost options. Otherwise, La Jolla is located just 13 miles north of San Diego and although it feels like a world apart, San Diego public transport provides frequent connections to Downtown San Diego. This means that you can always head out to La Jolla for lunch and a swim with the sea lions and still be back in time for dinner.
5 .) Laguna Beach, Orange County, California
Photo by Derek Liang on Unsplash
Popular Activities in Laguna Beach
Explore tide pools, sea caves, and bluffs
Swim
Visit Crystal Cove State Park
Best Time to Visit Laguna Beach
Any time of the year. The Pacific Ocean is not very warm here so if you want to spend a lot of time in the water, you may want to avoid the winter months.
More About Laguna Beach
Located between Los Angeles and San Diego, Laguna Beach has the best of what Southern California has to offer and it is one of the best beaches in the USA. Laguna Beach has over seven miles of coves and a beautiful shoreline allowing visitors to discover tide pools, sea caves, and ocean side bluffs.
This is a great place for a beach vacation for active travelers. Not only are there gorgeous, sweeping beaches where you can swim and surf but there are also 20,000 acres of protected wilderness giving ample opportunities for hiking and mountain biking. Crystal Cove State Park gives you the best of both worlds with over three miles of beaches and 2,400 acres of backcountry wilderness.
In town, you will find a variety of shops, art galleries, restaurants, and a pretty decent nightlife scene if you want to finish off the day with a night on the town.
6.) South Beach, Miami, Florida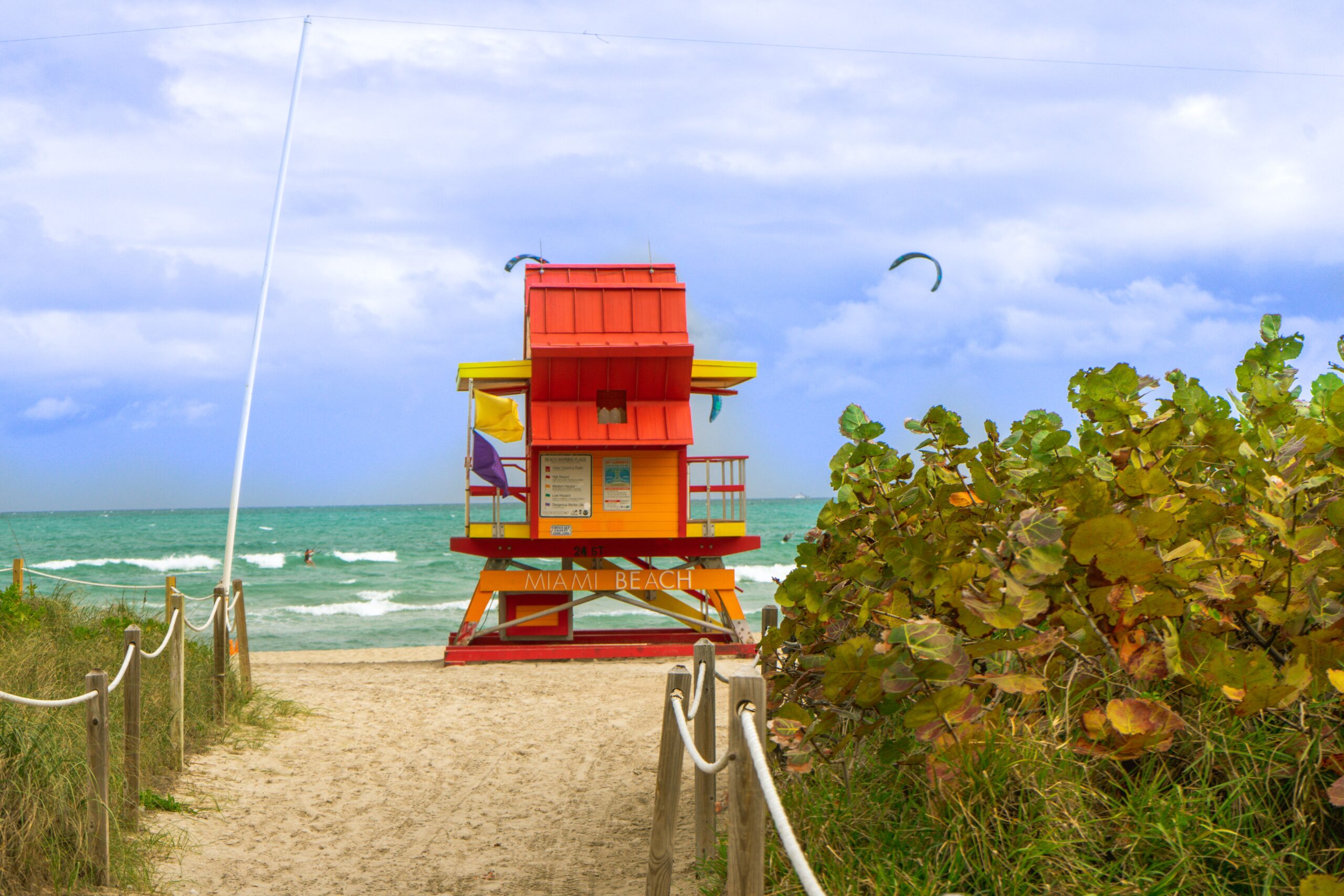 Photo by Avi Werde on Unsplash
Popular Activities in South Beach
Visit the beautiful beach
Experience the nightlife
Check out the art deco buildings
Best Time to Visit South Beach
Any time of the year
More About South Beach Florida
South Beach is located on a barrier island next to Miami and although they are connected by a series of causeways, South Beach has a completely different vibe than its closest big city. Although South Beach is one of the most famous beaches in the US, it is much more than just one of the country's prettiest beaches. South Beach is also home to some of the best art deco architecture in the entire country, great shopping and dining options, and a slew of hotels and hostels.
The beach itself is divided into three sections including the beautifully landscaped South Pointe Park, the Art Deco District and Ocean Drive, and the northern beaches of South Beach. South Pointe Park is gorgeous with fine sand and sparkling water that is great for sunbathing and swimming, walking trails, a children's play area, and a pier where you can see some pretty spectacular views. In the Art Deco District, you can find some of the pastel-colored buildings that Miami is so famous for, and as you head north, you will spot some of South Beach's luxurious hotels and resorts.
South Beach is also one of the biggest party areas in the United States so if you are looking for a beach vacation that is a bit more low-key, it may be a good idea to visit on weekdays.
7.) Assateague Beach, Assateague Island, Virginia, and Maryland
Photo by Amit Godase on Unsplash
Popular Activities in Assatrague Beach
Explore the endless beaches
Watch the wild horses
Kayak
Best Time to Visit Assateague Beach
Summer
More About Assateague Beach
The Assateague Island National Seashore is a stretch of land covering parts of Maryland and Virginia and the beach, which is located on a barrier island, can be accessed via either state.
The island covers over 48,000 acres and consists of sandy beaches, stunning bays, salt marshes, and maritime forests. In total, it has over 37 miles of beaches and coastline and is the perfect place if you are looking for a beach vacation that is a bit more secluded and rugged with lots of outdoor activities.
The sweeping stretch of sand and blue, calm water makes it an ideal place for swimming, sunbathing, beachcombing, surfing, and fishing. You can even get a kayak and explore the secluded coves nearby or take a sightseeing tour by boat. Besides the beach, one of the most famous aspects of the park is the wild horses that roam the island.
There are plenty of campgrounds located on the island but if you would prefer to sleep indoors, there are also tourist amenities in nearby Ocean City which is just a short drive away. Here, you will find hotels, restaurants, bars, and souvenir shops. You can also pick up snacks and other last-minute essentials for your fun day out at the beach!
8.) Sleeping Bear Dunes National Lakeshore, Empire, Michigan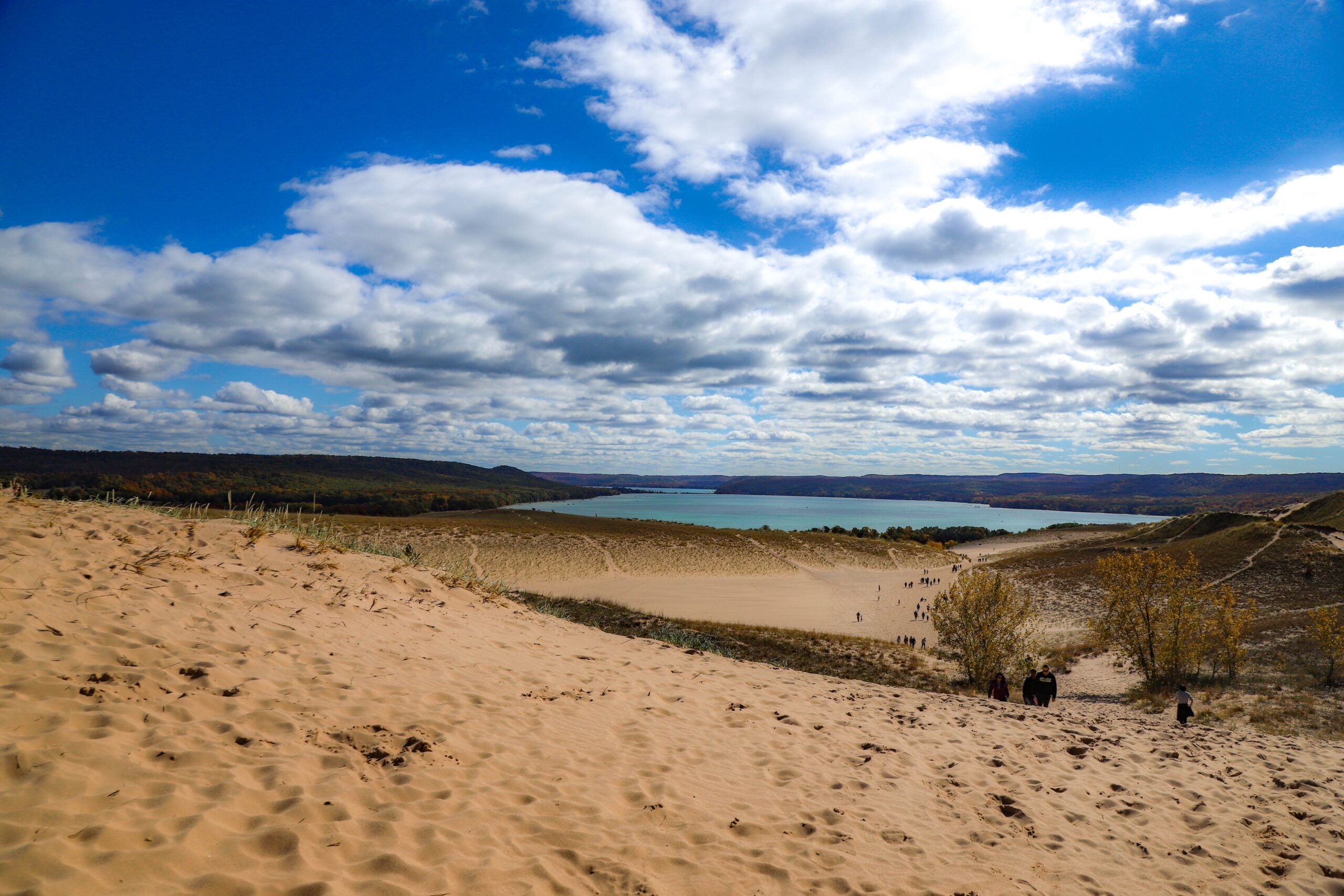 Photo by Daniel del Real on Unsplash
Popular Activities in Sleeping Bear Dunes
Hike to the beach
Explore the surrounding area
Camp
Best Time to Visit Sleeping Bear Dunes
Summer
More About Sleeping Bear Dunes
When you think of the Midwest, you may not immediately think of beaches. However, the Great Lakes have a variety of beautiful sandy beaches where you can spend a day (or many!). When the lakes are calm, you would even be forgiven for confusing the turquoise blue water for the Caribbean.
Sleeping Bear Dunes National Lakeshore is located on the far northern stretches of Lake Michigan and is one of the most beautiful beaches of the Great Lakes. The sand dunes are made of fine, white sand and slope dramatically down to the blue water of Lake Michigan far below. The dunes are only accessible by hiking and the experience is definitely well worth the effort.
It is recommended to spend at least two days in the park and you could easily spend at least four days there if you want to take advantage of all the great activities there. If you do have the time, make sure to pitch your tent at a campsite and spend the night there. On a clear night, it feels like you are swimming in a pool of stars. If you don't feel like a night in the great outdoors, there is accommodation in Frankfort, Empire, or Glen Arbor.
9.) Wai'anapanapa Black Sand Beach, Maui, Hawaii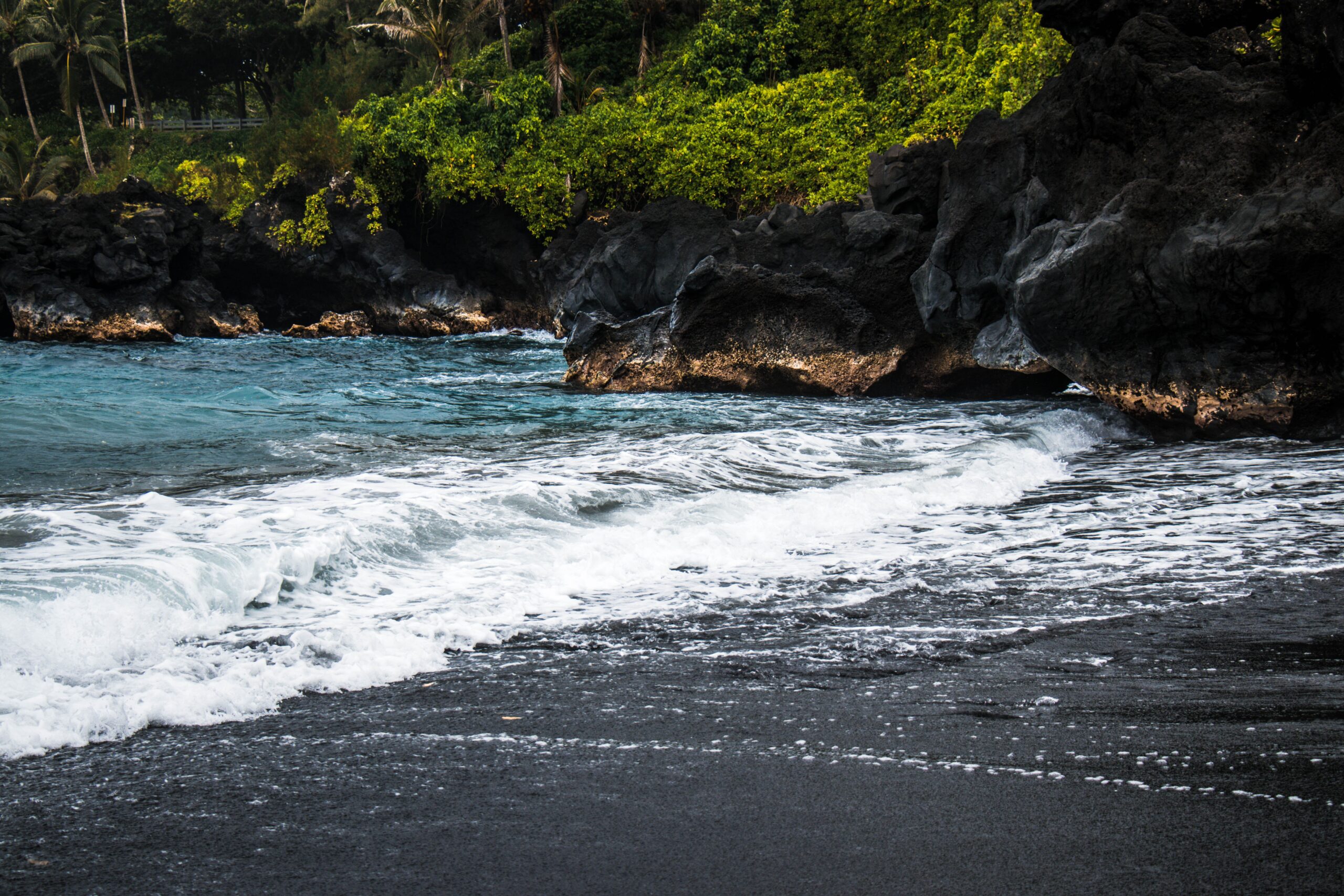 Photo by abbs johnson on Unsplash
Popular Activities in Wai'anapanapa Beach
See the natural landmarks
Hike
Relax
Best Time to Visit Wai'anapanapa Beach
Any time of the year
More About Wai'anapanapa Beach
Wai'anapanapa Black Sand Beach is located in Wa'anapanapa State Park, one of the seven state parks on Maui. The beach is stunning with glistening black sand, and turquoise water, The water is a bit too rough for swimming for anyone except extremely strong swimmers but luckily, there is plenty of other things to do! The park is only 122 acres but features a sea arch, a blowhole, pool, caves, lava rock formations, a native Hala forest, and a bird sanctuary.
While there are no hotels in the park, there are campgrounds with spots for tents and cabins where you can stay. Considering the cost of accommodation on Maui, it is actually a pretty good deal and this could be a great place to base yourself for a few days of hiking and exploring.
10.) Makena Beach, Maui, Hawaii
Photo by Joanna Kozik on Unsplash
Popular Activities in Makena Beach
Swim
Snorkel
Visit Little Beach
Best Time to Visit Makena Beach
Any time of the year
More About Makena Beach
Makena Beach, part of the Makena Beach State Park, is a sweeping expanse of sand fringed by sparkling blue water. It is one of Maui's most famous and prettiest beaches and is aptly known as Big Beach. The north section of the beach has steep lava outcroppings and on the other side of this, you can reach Little Beach, one of the only beaches in Hawaii where you can sunbathe nude.
The beach is ideal for swimming, snorkeling, fishing, kayaking, and surfing but keep an eye on the water conditions if you do decide to venture into the water. The waves can get pretty rough and although there are lifeguard stands dotted around the beach, it is always better to be safe than sorry.
Although the area around the beach is undeveloped, there are plenty of accommodation options nearby including everything from high-end international hotels and resorts to AirBnbs.
So are you ready for your next beach vacation?
When many people think of a beach vacation, they imagine a white sand beach fringed with palm trees. But as you can see, the US has an insanely wide variety of beaches to choose from and they each have something very special to offer visitors. From the black sand beaches of Maui to the soaring sand dunes of Lake Michigan, the options are endless and this is one of the best things about planning a beach vacation in the United States. No matter what your budget, preferences, or location are, there is a beach nearby that is perfect for you and your family!