12 Best Places to Visit in Maine, USA: Things to do in Maine
Visiting Maine brings the opportunity to explore everything from wild, rugged shoreline dotted with picturesque lighthouses to soaring mountains and charming towns. From kayaking, canoeing and sailing to hiking and biking, this is a state that you won't soon forget. Wildlife is abundant too, including one of the biggest black bear and moose populations in the Lower 48.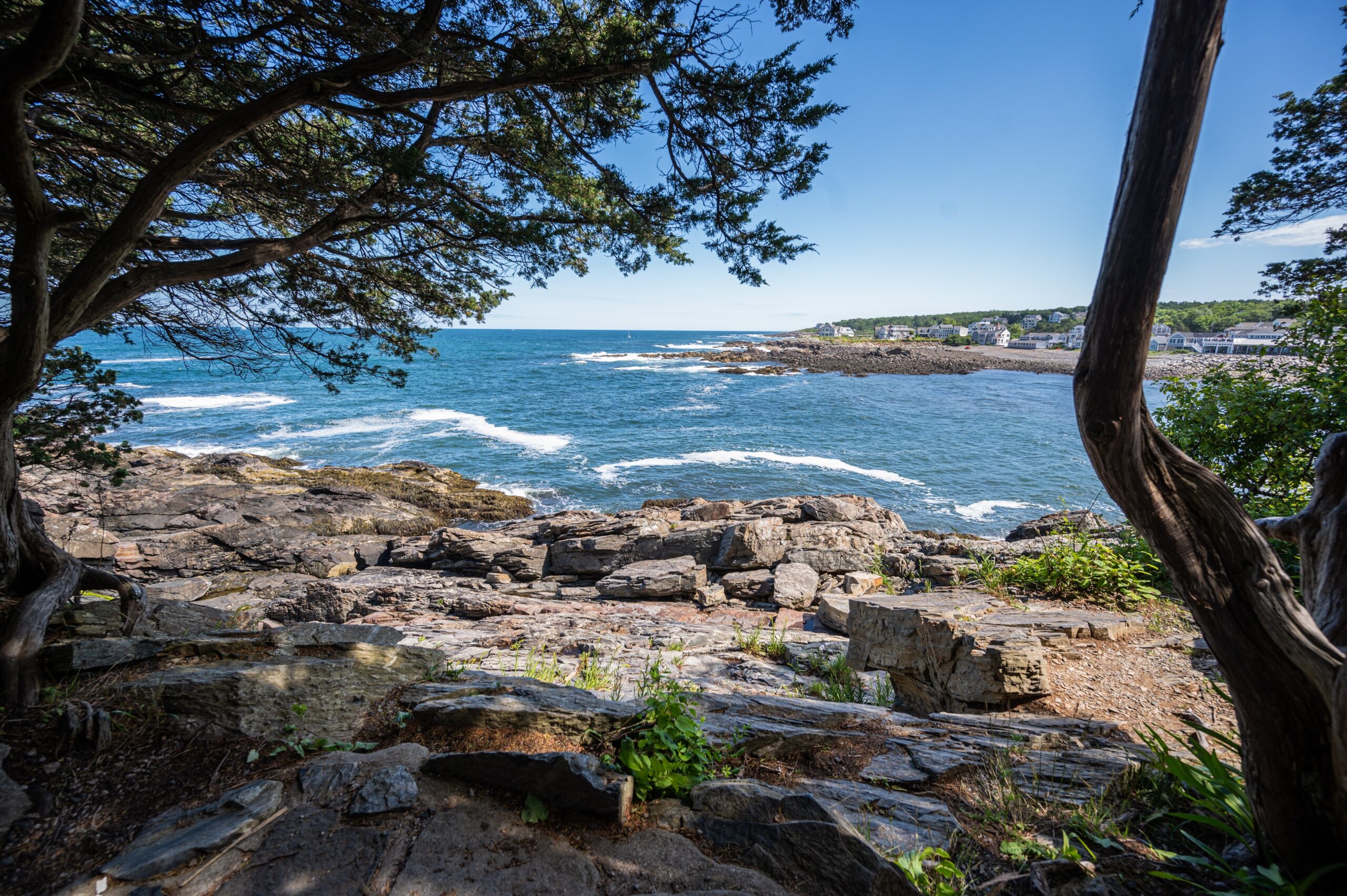 Photo by Natasha Miller on Unsplash
This state truly has it all whether you're looking for the thrill of adventure, total relaxation, or a mix of both. When it comes to dining, Maine is famous for its lobster shacks, and you'll find more farm-to-table eateries than you could possibly sample in a year or more. A brew lover's delight, there are also 155 active breweries representing more than 100 unique brands. The seaside city of Portland has a long history of microbrewing with outstanding local institutions like Allagash where visitors can sample tasty offerings in the barrel room.
With such a wide range of things to do in Maine, a state that's spread across over 3.4 million square miles, the question isn't whether to go, it's which destinations to visit. There are gorgeous coastal towns, mountain retreats, and even remote islands. If you're like most people, you only have a limited amount of time, so you'll want to put the very places to visit on your list to make the most out of the experience.
List of Top 12 Places in Maine
1. Acadia National Park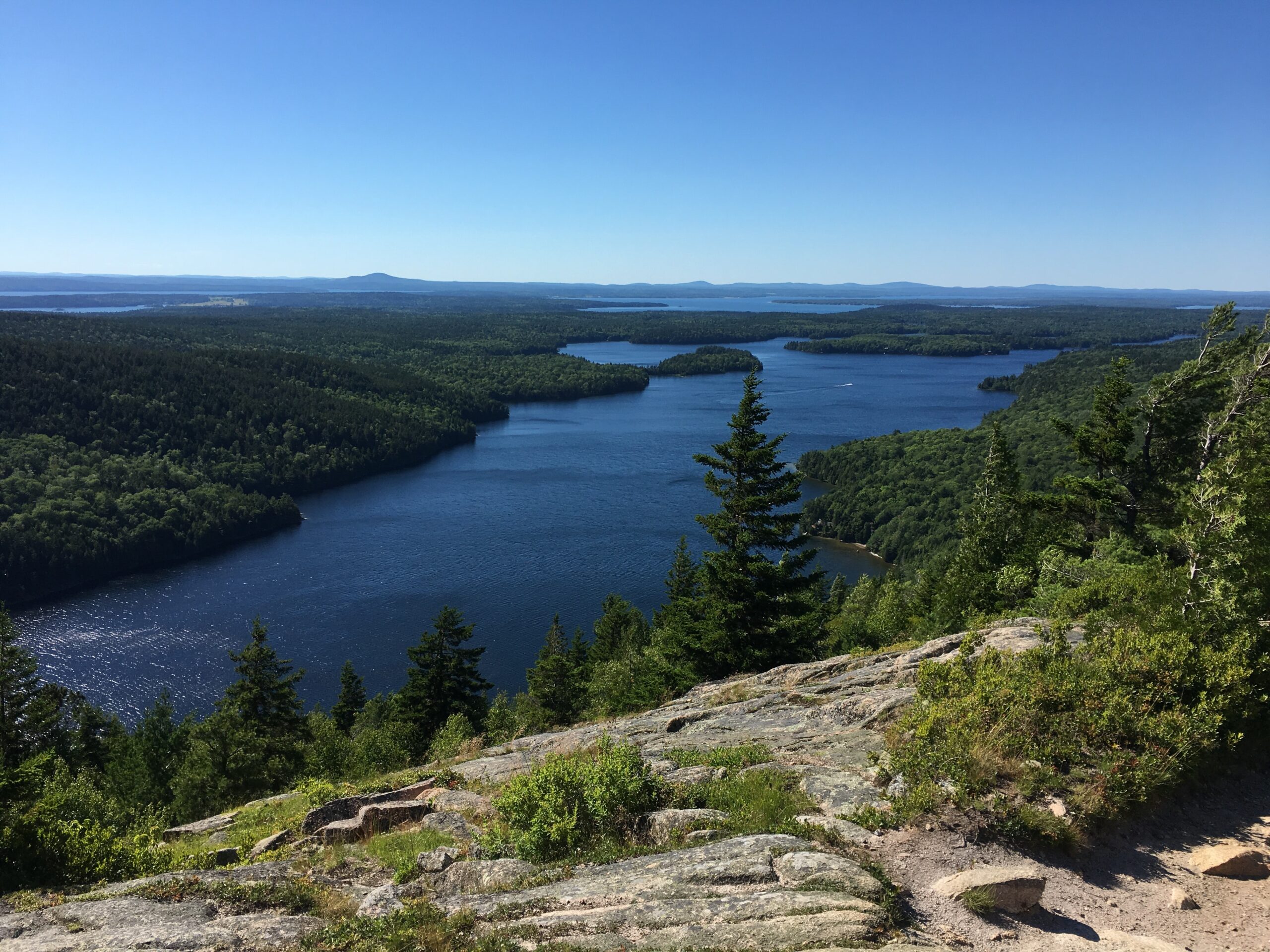 Photo by Michael Loftus on Unsplash
Popular Activities in The Acadia National Park
Wildlife watching
Hiking
Paddling
Swimming
Best Time To Visit The Acadia National Park
The park is ideal to visit year-round.
About The Acadia National Park
Any decent list of what to do in Maine will include spending time in Acadia National Park. Encompassing over 47,000 acres, more than half are on Mount Desert Island, with the rest on the Schoodic Peninsula and Isle au Haut, located some 170 miles north of Portland. It combines a little of everything that the state offers, including mountain, forest, and coastal scenery while providing opportunities for activities on land and water.
All sorts of wildlife can be viewed here too, including moose, peregrine falcons, whales, and seals. Hiking and biking trails can be found throughout, with the trek leading to the top of 1,529-foot-high Cadillac Mountain one of the most popular. If you can reach the summit just before sunrise, you'll witness the first spot sunlight hits the country on most mornings. If you aren't up for a trek, there's a winding 3.5-mile road that will bring you to the breathtaking vista that includes the town of Bar Harbor, the coast, Porcupine Islands, and Frenchman Bay. Down below, kayaking and canoeing tours are popular on the water.
Acadia is also home to cliffside Bass Harbor Head Lighthouse which marks the entrance to Bass Harbor, standing 56 feet above high water. Built in 1858, it's open daily for visitors. If you hope to take advantage of the opportunity to swim, come in the summer and enjoy Sand Beach. Nestled between rock shores and the mountains on the east side of Mount Desert Island, there are lifeguards often provided during the peak season. Otherwise, the park is ideal to visit year-round.
2. Portland Head Light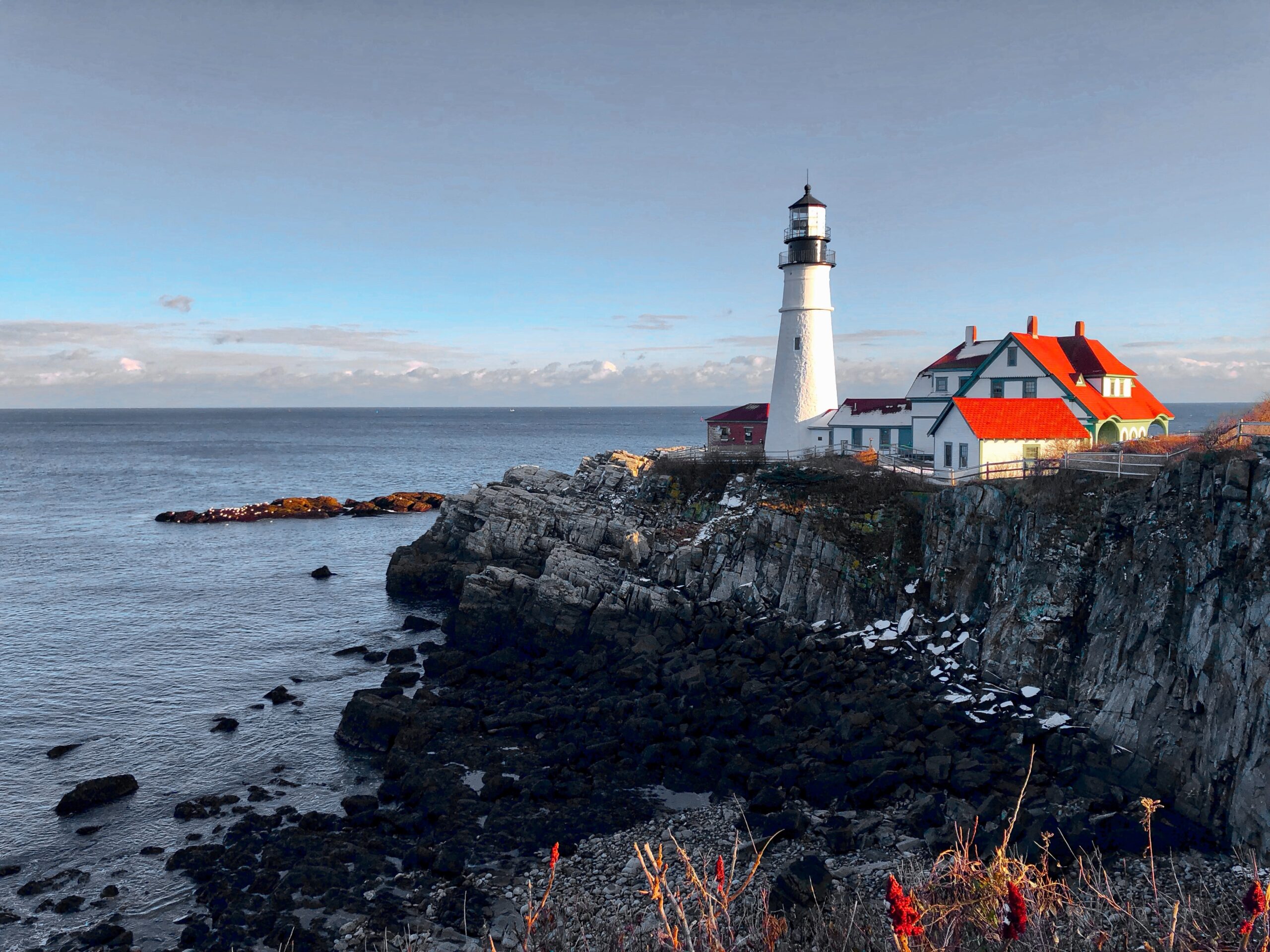 Photo by Wenzheng Hu on Unsplash
Popular Activities in The Portland Head Light
Photography
Maritime museum
Panoramic views
Best Time To Visit The Portland Head Light
Summer brings the most pleasant weather conditions although it often continues into early fall when many tourists will be gone.
About The Portland Head Light
One of the top Maine attractions, the Portland Head Light is located just outside of Portland in Cape Elizabeth. It's one of the oldest landmarks of its kind in the U.S., built more than 200 years ago, and the first beacon created with a lamp that burned whale oil. While it's been altered over the decades, much of the original structure remains as it was back in the late 18th-century.
The historic lighthouse sits atop a head of land at the entrance of Portland Harbor's primary shipping channel, with the tower, foghorn, and beacon maintained by the U.S. Coast Guard.
The original lightkeeper's resident now serves as a maritime museum with exhibits featuring artifacts, navigational aids, photographs, Fresnel lenses, models and more. You'll learn about light's origin, the lives of the lighthouse keepers, and how technology has changed it through the years. Visitors can also climb to the top of the tower to take in a dazzling panoramic view of the coastline.
3. Sunday River Ski Resort
Photo by Sunday River Ski Resort
Popular Activities in The Sunday River Ski Resort
Skiing, boarding, and tubing
Hiking
Water sports
Spa treatments
Best Time To Visit The Sunday River Ski Resort
Winter
About The Sunday River Ski Resort
One of the largest and most popular ski resorts in the state, Sunday River is actually a year-round destination with opportunities for outdoor adventure in every season. When in Maine, you really shouldn't miss it whether you're up for a strenuous workout or you're looking to take in some magnificent views. During the warmer months, Scenic lift rides can bring you up to North Peak for a hike or you can simply enjoy the spectacular vista. Treks range from nature walks and family-friendly hikes to challenging backpacking trips. There's a network of trails for mountain biking, opportunities to kayak, canoe, or standup paddleboard, and swimming holes for refreshing dips too.
In the winter, skiers and boarders can enjoy a vertical drop of 2,340 feet, the second largest in the state, along with 135 trails and glades. Snow tubes and ski bikes are available for rent as well. After a day of play, the on-site Jordan Spa is a perfect way to soothe sore muscles with a variety of massages like deep tissue, Swedish, and even CBD massages available.
4. Coastal Maine Botanical Gardens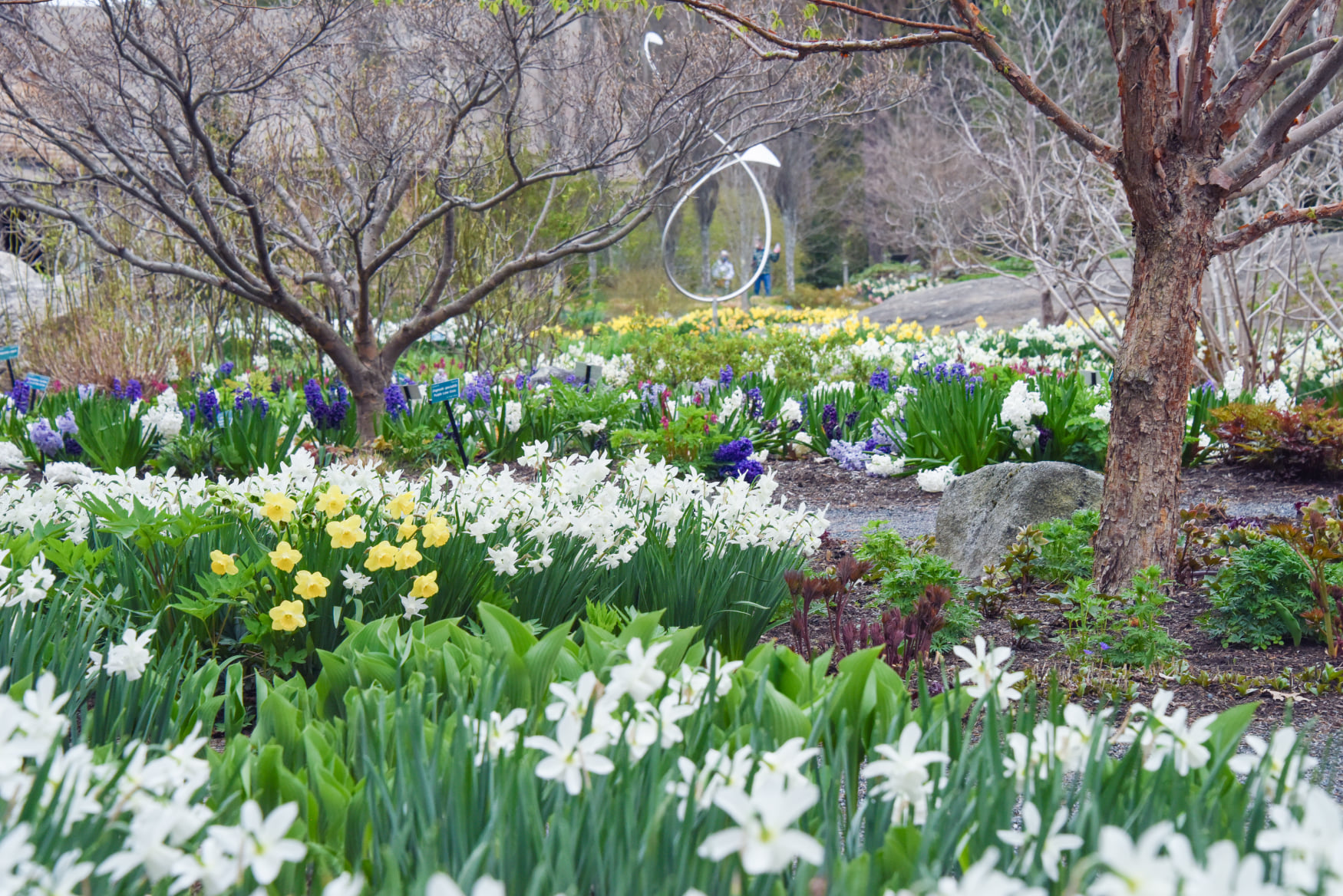 Photo By Coastal Maine Botanical Gardens
Popular Activities in Coastal Maine Botanical Gardens
Garden strolls
Kids' activities
Special events
Guided tours
Best Time To Visit Coastal Maine Botanical Gardens
Summer
About Coastal Maine Botanical Gardens
One of the top things to do in Maine in the summer, the Coastal Maine Botanical Garden is located in Boothbay on the Cape Newagen Peninsula, a hub of tourist activity during the peak season. It's one of the most beautiful areas in midcoastal Maine with its natural beauty on full display here. The state's largest botanical gardens, it's spread across 295 acres and includes 17 gardens native to Maine, thriving in the northern coastal climate conditions. There are works of art spread throughout and activities available for the kids in the Bibby and Harold Alfond Children's Garden. The little ones can enjoy a frog- and fish-filled pond and exploring the meandering paths.
On weekends, events like chicken feeding, a puppet theater, and storytelling are offered. There are two guided tours available, the Botany of Butterflies Tour and the Highlights Tour, led by knowledgeable staff members who provide insight into the plants and wildlife in the gardens.
5. Old Orchard Beach Photo by Library of Congress on Unsplash
Popular Activities in The Old Orchard Beach
Amusement rides
Arcade games
Shopping and dining
Best Time To Visit The Old Orchard Beach
Open from late May through early September.
About The Old Orchard Beach
Old Orchard Beach is home to a seven-mile stretch of sand and New England's only beachfront amusement park. Palace Playland features 28 rides, including a Ferris wheel where you can watch the waves, and a 24,000-square-foot arcade that's one of the largest in New England with over 250 games and attractions ranging from fortune tellers to Skeeball.
The Orchard Beach Pier, originally built in 1898, once stretched over 1,800 feet into the bay. While it's shorter now, you'll still find a number of places to shop, eat, and drink. Plus, the Dunegrass Golf Club nearby hosts 18 holes of golf.
6. Camden
Photo by krisrobin on Bigstock
Popular Activities in Camden, Maine
Postcard-perfect scenery
Hiking
Sailing
Classic New England architecture
Best Time To Visit Camden, Maine
While summer is a lovely time to visit, it's even more stunning in the fall, with brilliant foliage dotted across the landscape.
About Camden, Maine
Often referred to as the "jewel of the Maine coast," Camden was once a haven for manufacturing, but today it's mostly popular for Maine tourism. So picture-perfect it looks as if it were built for a movie set, it's been used as a setting for multiple films like Sissy Spacek's "In the Bedroom" and 1957's "Payton Place" starring Lana Turner.
Watch the sailboats glide in and out of Penobscot Bay, wander through the High Street Historic District to gaze up at classic New England architecture, and perhaps take a hike through Camden Hills State Park. There are plenty of mouthwatering seaside eateries, often with seafood-focused menus, too.
7. Nubble Lighthouse
Photo by Peregrine Photography on Unsplash
Popular Activities in The Nubble Lighthouse
Outstanding photo-ops
Telescope
Gift shop
Best Time To Visit The Nubble Lighthouse
While the park is open year-round, the restroom facilities and gift shop are open seasonally between mid-April and mid-October.
About The Nubble Lighthouse
Built on a tiny offshore island in York in 1870, the often-photographed Nubble Lighthouse and grounds aren't open to the public, but it's so close to land that it can easily be viewed from seaside Sohier Park. It includes a Victorian era lightkeeper's house with gingerbread trim and a railing with miniature lighthouses made from cast-iron.
There is a telescope at the park where you can get a closer view as well as a gift shop with a "Nubble" theme. An American icon, the Voyager spacecraft which holds photos of some of the most prominent natural features and man-made structures in the world, includes a photo of Nubble Light.
8. Ogunquit Beach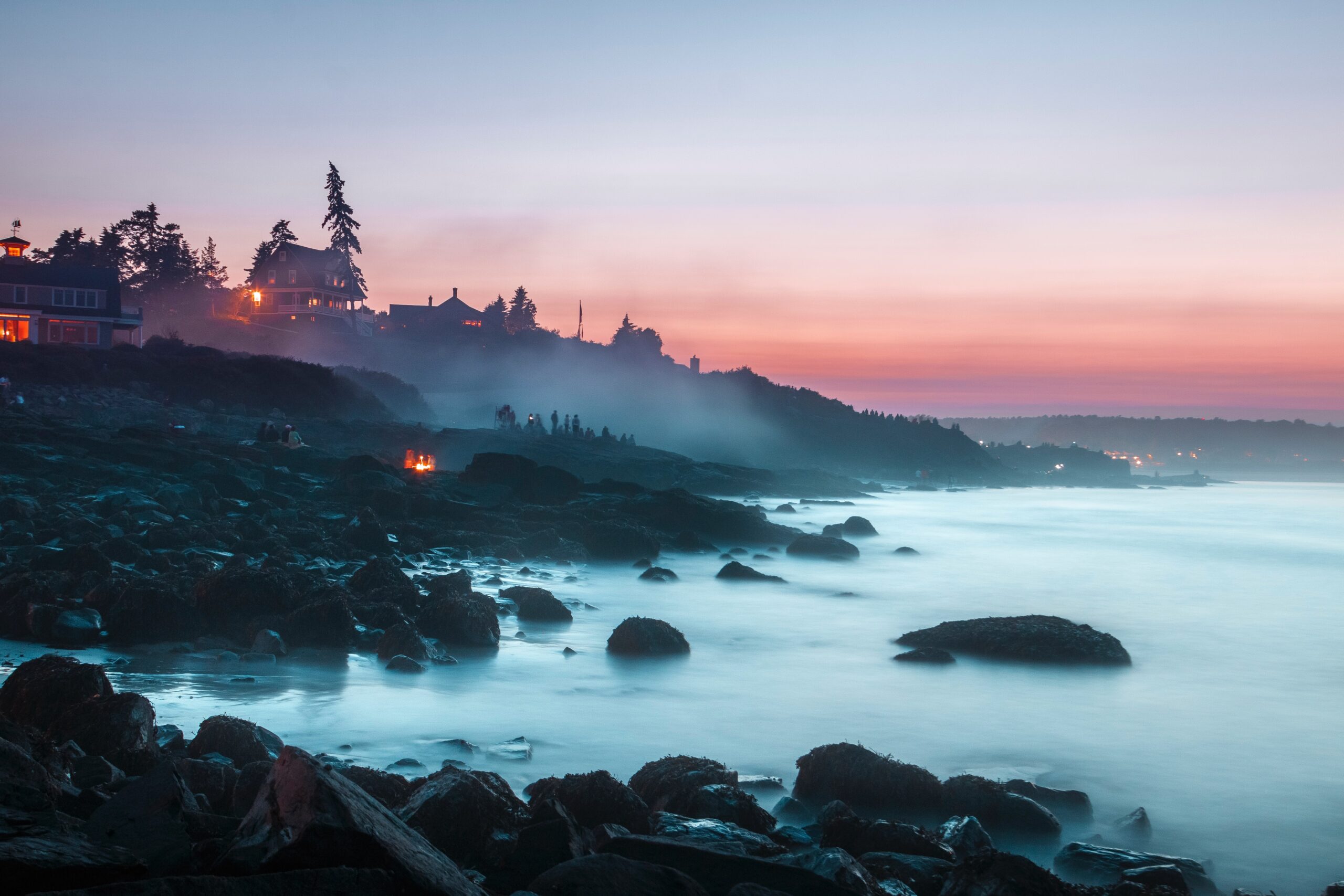 Photo by Justin Bisson Beck on Unsplash
Popular Activities in The Ogunquit Beach
Tubing and rafting the Ogunquit River
Sea kayaking, sailing and whale watching
Art scene
Best Time To Visit The Ogunquit Beach
Plan your visit in the summer to enjoy them.
About The Ogunquit Beach
The town of Ogunquit, a name that translates to "beautiful place by the sea," is one of the top vacation spots in Maine. It's home to Ogunquit Beach, often found on lists of the state's prettiest beaches. Spanning 3.5 miles from the center of town, in the summer visitors and locals alike typically plan their days based on the tides.
When it's about midway between low and high tide, the current of the Ogunquit River flows out into the Atlantic, leaving a flat stretch of sand that rolls down to the riverbank. This is when you'll see many people carrying rafts, inner tubes, and other toys for fun in the water. It's one of the favorite things to do in Maine on a pleasant day, ong with sea kayaking, sailing, and whale watching. Artists discovered the inspirational beauty of this beach and the surrounding area over a century ago, with galleries in town often featuring works that provide the ideal souvenir of your time here.
9. Saddleback Ski Mountain Maine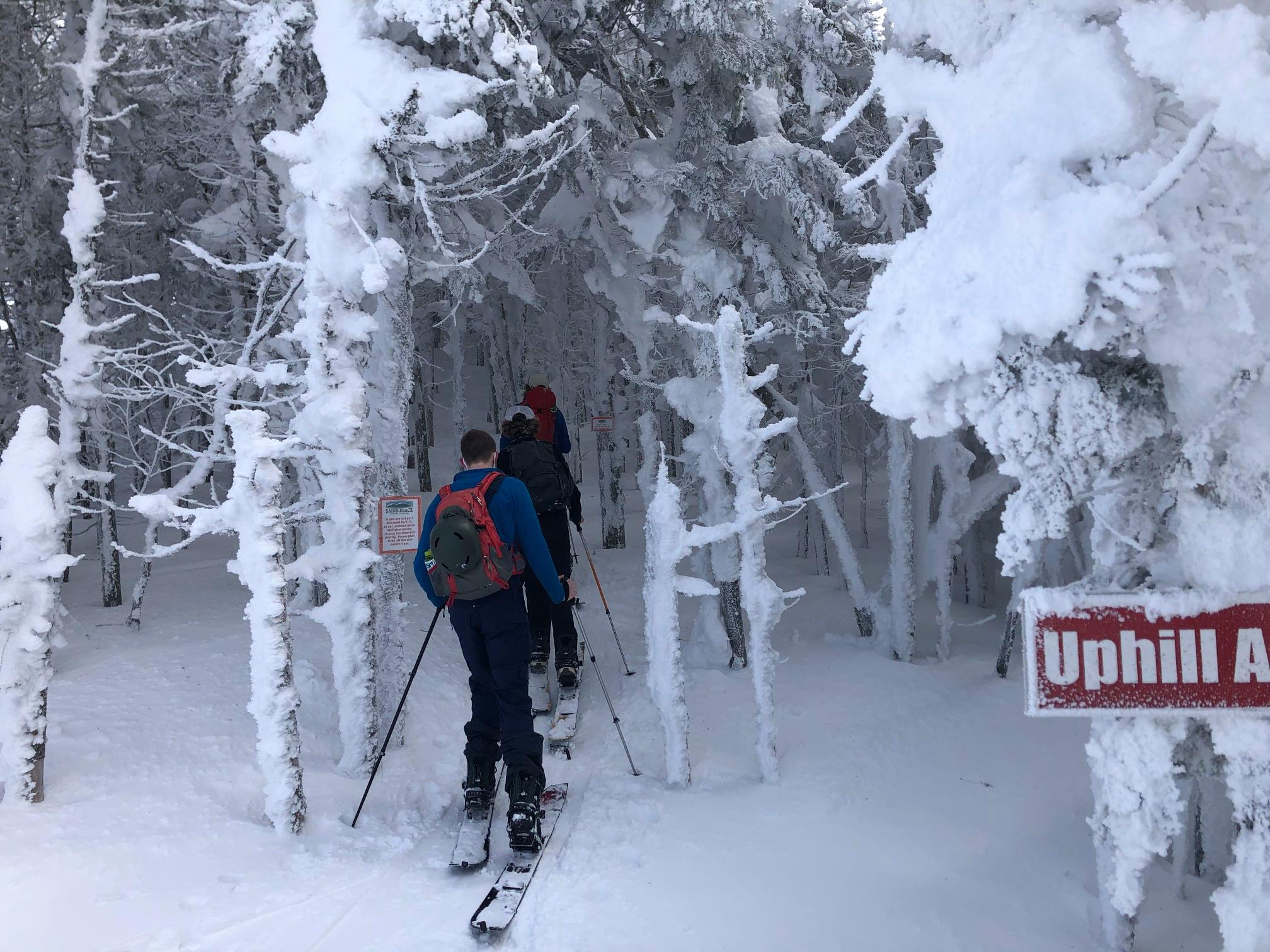 Photo by Saddleback Maine
Popular Activities in The Saddleback Ski Mountain Maine
Tubing and rafting the Ogunquit River
Sea kayaking, sailing and whale watching
Art scene
Best Time To Visit The Saddleback Ski Mountain Maine
There's a reason to come in every reason with the best time to visit dependent on the activities you hope to enjoy. Autumn brings fiery reds, golden yellows, and burnt oranges that can be enjoyed along the hiking trails.
About The Saddleback Ski Mountain Maine
Located in the Lakes district of western Maine, Saddleback Mountain is popular for skiing and boarding with more than 440 acres of diverse terrain and two terrain parks. But that's just a start, there's lots to do here in the summer too. This area is the epicenter of some of the best hiking in the east with the Appalachian Trail running directly across the summit of Saddleback.
There's water everywhere and it happens to be a fly-fishing mecca with everything from bass to brook trout in the streams, rivers, and lakes. Of course, with all the water, there are opportunities to kayak and canoe with rentals and guided tours available on everything from placid lakes to whitewater. Avid birder? The Northern Boreal Forest is home to abundant bird species, including bald eagles, hawks, woodpeckers, and jays. Golf enthusiasts have two courses to choose from too.
10. York's Wild Kingdom
Popular Activities in The York's Wild Kingdom
Zoo with a wide range of animals
Butterfly Kingdom
Amusement Park
Kid Zone
Best Time To Visit The York's Wild Kingdom
You'll need to visit in the summer as it's only open from late June through early September.
About The York's Wild Kingdom
Located in York Beach, York's Wild Kingdom is a zoo and amusement park that offers more than enough for an entire day of fun. One of the best family-friendly attractions in Maine, you'll be able to get up close to many animals who live in beautifully landscaped habitats, including African lions, monkeys, lemurs, kangaroos and wallabies, zebras, sloths, lynx, and many birds like owls, parakeets, and swans, along with beautiful butterflies.
In the 5,500-square-foot Butterfly Kingdom there are many free-flying Central and South American butterfly species. The amusement park rides include a train, bumper cars, and Ferris wheel, and you'll also find an18-hole mini-golf course, carnival games, and the Kid Zone which provides coloring activities, puzzles, games, and more.
11. Spring Point Ledge Lighthouse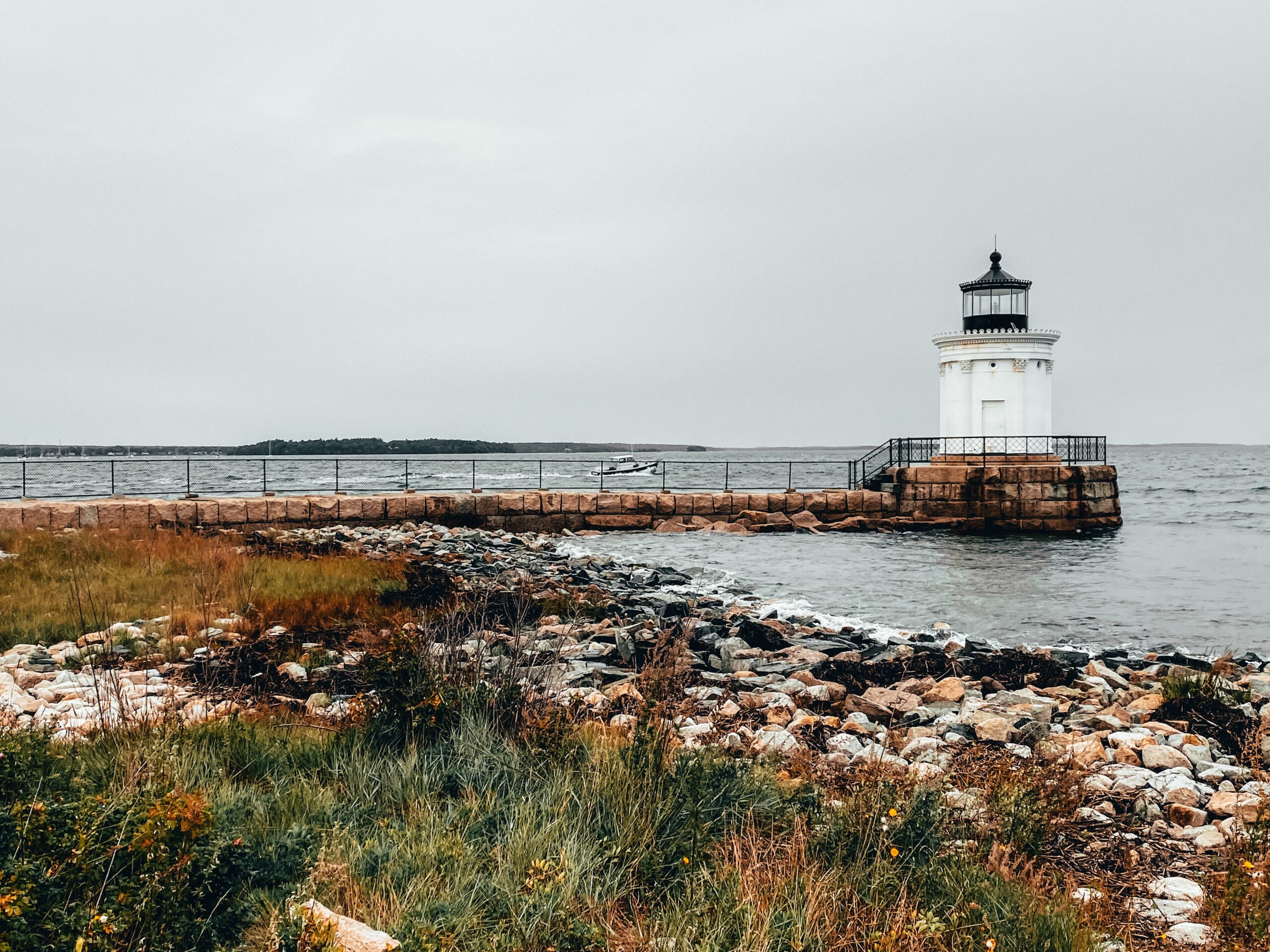 Photo by Inera Isovic on Unsplash
Popular Activities in The Spring Point Ledge Lighthouse
Public lighthouse tours
Picnics
Fishing
Gift shop
Best Time To Visit The Spring Point Ledge Lighthouse
It's open year-round from 11 a.m. to 3 p.m. If you visit between late spring and early fall the weather is likely to be pleasant enough for a family picnic or fishing.
About The Spring Point Ledge Lighthouse
A sparkplug lighthouse marking a dangerous obstruction on the main shipping channel into Portland Harbor, Spring Point Ledge Lighthouse is one of the few accessible by land. Built in 1897, it's become a symbol for the city of South Portland with a distinct brick upper works sector box that distinguishes it from other lighthouses of its type.
Popular among Maine tourism, it's open to the public and welcomes people from across the globe every year, providing a unique opportunity to learn more about the lighthouse and its history. On a summer day, many come to enjoy family picnics and fishing. Adjacent to the lighthouse is the Southern Maine Community College campus, old Fort Preble, and a gift shop.
12. Penobscot Marine Museum
Popular Activities in The Penobscot Marine Museum
Paintings, artifacts, and other treasures focused on maritime history
Self-guided and guided walking tours
Children's activities
Museum store
Best Time To Visit The Penobscot Marine Museum
You'll need to come between late May and mid-October as the museum is closed the rest of the year.
About The Penobscot Marine Museum
This museum showcases the maritime history of Maine with a focus on the Penobscot Bay Region. Located in the seaside village of Searsport in a building that dates back to the early 19th-century, it showcases an impressive collection of paintings that includes one of the largest with works by Thomas and James Buttersworth plus artifacts from seafaring life, dioramas, navigational instruments, photos of local sea captains, models of famous ships, ocean treasures, and more. Walking tours and self-guided visits are offered, along with special children's activities and other events.
As you can see, when it comes to where to go in Maine, there is no shortage of options. In fact, before you leave you might just find yourself planning a return trip to enjoy more of this magnificent state.